Global[1] Electric Vehicle Deliveries[2] Recorded 673,000 Units in Jan 2023, a 7.3% YoY Growth
- After a 30-month long upward trend with a double-digit growth, China posted 'degrowth,' while BYD took No.1 position in the global ranking of EV sales
The total number of electric vehicles registered in countries around the world in January 202 was approx. 673,000 units, a 7.3% growth from the previous year. According to the Global Monthly EV & Battery Shipment Forecast based on the Tracker data provided by SNE Research, the global EV deliveries[3] in 2023 are expected to reach approximately 14.78 million units.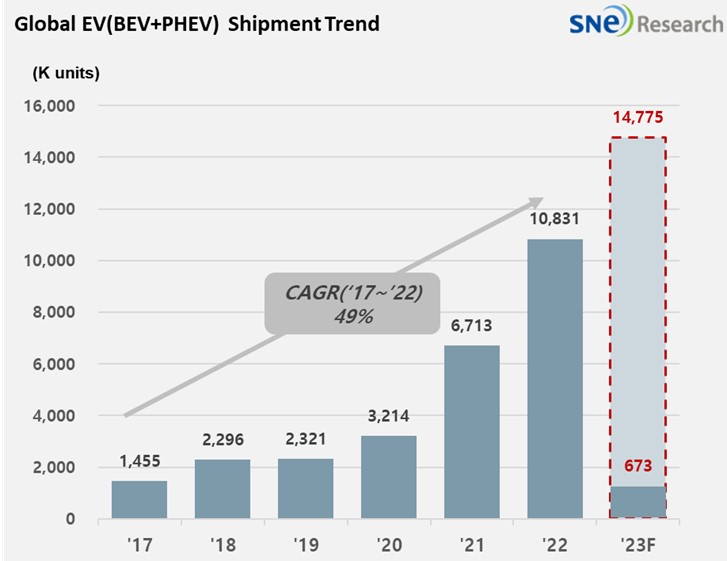 (Source: Global Monthly EV & Battery Shipment Forecast – February 2023, SNE Research)
​
If we look at the EV sales in Jan 2023, BYD, who recorded over 200% of growth for two consecutive years in 2022, continued to grow with an explosive momentum, registering a 64.9% YoY growth and topping the list. Tesla, who recorded a 63.3% growth, ranked 2nd and was outpaced by BYD, who is fully equipped with BEV and PHEV line-ups. The 3rd place was taken by the Volkswagen Group who posted a 5.2% YoY degrowth due to a sharp drop in EV sales affected by the abolition of subsidy policy in the Chinese domestic market.
​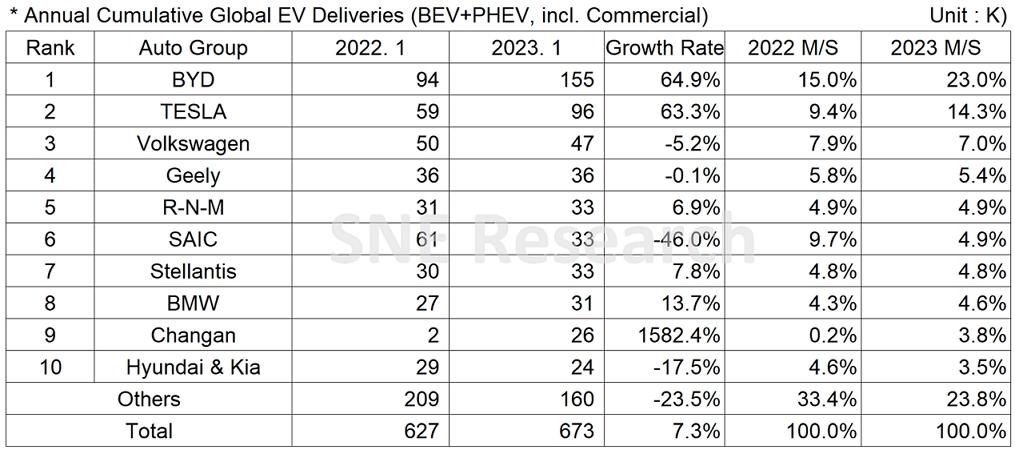 (Source: Global Monthly EV & Battery Shipment Forecast – February 2023, SNE Research)
Changan Automobile from China, whose growth rate is the most notable among others, enjoyed a breathtaking growth thanks to solid sales of LUMIN and Benni E-Star EV targeting the mini electric vehicle market in China. Changan Automobile is currently working on the expanding its market share in the sedan and SUV markets beyond mini EVs by focusing on SHENLAN SL03 and UNI line-ups.

​
(Sourc
e: Global Monthly EV & Battery Shipment Forecast – February 2023, SNE Research)
China, whose market share in the global EV market has been always top on the list, saw their 30-month-long, double-digit growth in EV sales turn to a degrowth due to the Chinese lunar New Year holiday and termination of national subsidy policy after its first implementation 14 years ago. This has made it hard for EV makers to determine the price of their EV products. While Tesla and
Xiaopeng Motors
decided to lower the price, BYD on the contrary chose to increase, which can be interpreted that BYD is confident that it can expand its global market share based on solid sales in the Chinese domestic market. With the national subsidy policy terminated in China, it is expected that a right pricing decision befitting market situations and competitiveness in vehicle quality would become a major game changer in the market. When it is particularly needed to approach to Chinese customers with a specially customized sales strategy, KIA announced earlier this year to launch EV6 in the Chinese market. Attentions should be paid to changes in shares of Korean OEMs in the Chinese market of future.
---
[1] The xEV sales of 80 countries are aggregated.
[2] Based on electric vehicles (BEV+PHEV) delivered to customers or registered during the relevant period.
[3] Forecast is updated every month in accordance with the actual aggregated data of each month.