In Jan 2023, Global[1] EV Battery Usage[2] Posted 33.0 GWh, 18.1% YoY Growth
- With K-trio M/S reaching 23.2%, BYD ranked 2nd and LGES ranked 3rd
In January 2023, the amount of energy held by batteries for electric vehicles (EV, PHEV, HEV) registered worldwide was 33.0GWh, a 18.1% YoY increase. The upward trend in the market has continued since the 3rd quarter of 2020. Based on the Global EV & Battery Monthly Tracker provided by SNE, the global EV battery usage[3] in 2023 is expected to reach approximately 749GWh.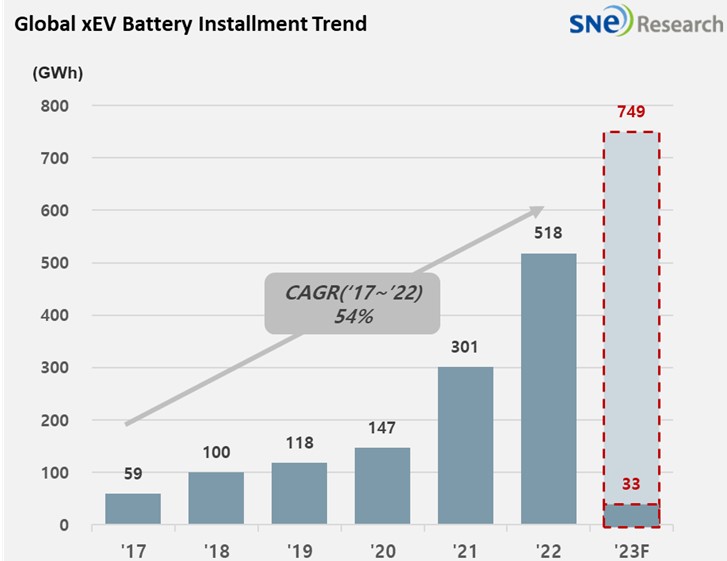 (Source: Global Monthly EV & Battery Shipment Forecast – February 2023, SNE Research)
The market shares of K-trio companies increased by 3.3%p from the same period of last year to 23.2%. LG Energy Solution ranked 3
rd
with 4.3GWh, a 51.3% YoY increase. SK-On recorded 1.5GWh, a 1.2% decline, and Samsung SDI posted 1.8 GWh, a 52.6% surge.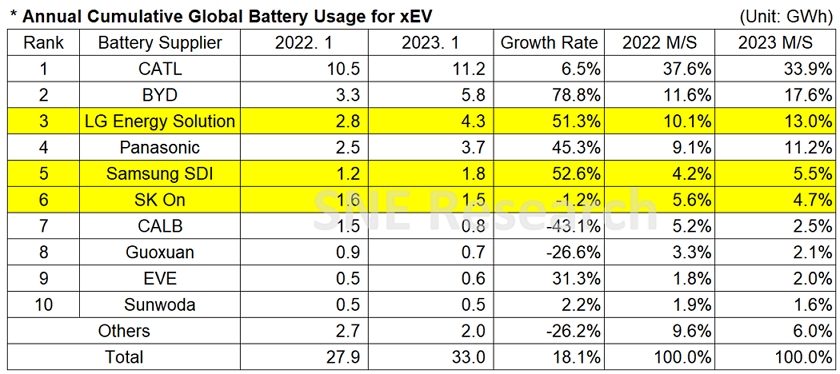 (Source: Global EV and Battery Monthly Tracker – February 2023, SNE Research)
​
The upward or downward trend in growth of battery cell makers was mainly affected by sales of electric vehicle models equipped with batteries of each company. SK-On found the sales of Hyundai Ionic 5, KIA EV6, and Ford F-150 noticeably helpful for its battery sales but saw a decline in the sales of Kona BEV. Samsung SDI's growth was effectively led by steady sales of Audi E-Tron and BMW i4 and iX. A sudden growth in sales of R1T, Rivian's pick-up truck, also favorably affected Samsung SDI. The growth of LG Energy Solution was based on solid sales of Tesla Model 3 and Y, Ford Mustang Mach-E, Chevrolet Bolt EUV, and Porsche Taycan EV.
Panasonic, the only Japanese company in the top 10 on the list, posted 3.7GWh, a 45.3% YoY growth, and witnessed its market share reviving by 2.1%p. As one of the major battery suppliers to Tesla, Panasonic stayed on an upward track thanks to increases in sales of Tesla models in the North American market and an increase in sales of Toyota BZ4X.
​
Even though CATL from China recorded a growth of 6.5%, below the market average, it still occupied 33.9% of the entire market share, standing at the forefront of the market as an unmatched leader. CATL's continued growth was based on the installation of CATL battery in Tesla Model 3 and Y, SAIC's Mulan, Nio's ET5, and KIA's Niro BEV. BYD, of which sales is mostly focused on the Chinese domestic market, showed a high growth of 78.8% and took the 2
nd
place on the list despite a decline in the EV sales in the Chinese market. Such growth was achieved by selling a large number of BEV and PHEV from BYD who has an advantage in cost competitiveness through in-house battery making and vertical SCM integration.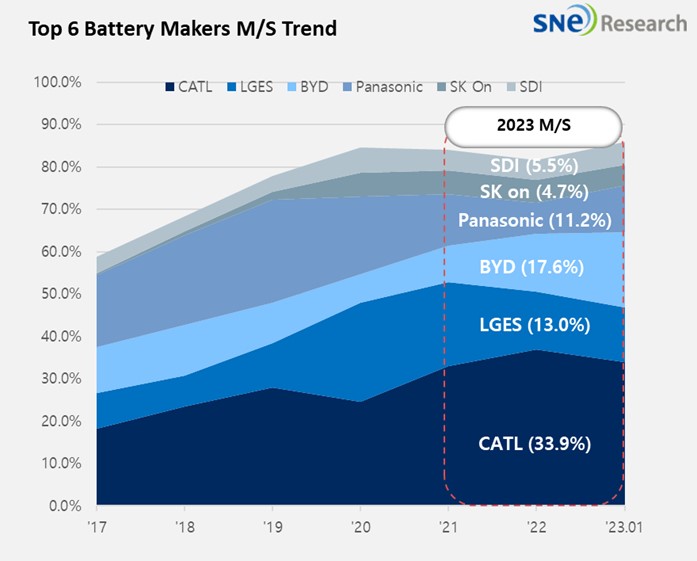 ​
(Source: Global EV and Battery Monthly Tracker – February 2023, SNE Research)
Although the January EV (BEV+PHEV) sales in China has seen a 6.2% YoY decline due to the termination of national subsidy policy in 2023, the market is still led by the Chinese companies with CATL and BYD at the forefront. In February, the Ministry of Industry and Information Technology of the People's Republic of China announced that it had a plan to accelerate the establishment of EV waste battery recycling system. This announcement can be interpreted that China plans to build a battery circulation system in the country as well as to prepare a solid foundation for a stable take-off to the global stage. Amidst several uncertainties in the market such as protectionist measures upheld by the US and Europe and economic downturn, attentions should be drawn to counterstrategies implemented by battery makers.
---
[1] The xEV sales of 80 countries are aggregated.
[2] Based on battery installation for xEV registered during the relevant period.
[3]
Forecast is updated every month in accordance with the actual aggregated data of each month.