K-trio Battery Makers Taking Up 23.1% of Market Share in Global[1] EV Battery Usage[2] From Jan to November 2022
- BYD in China jumped to the 2nd place in the ranking with a massive triple-digit growth
In the ranking of battery installation for global electric vehicles (BEV, PHEV, HEV) sold from January to November in 2022, LG Energy Solution was outrun by BYD and ranked 3rd, while SK-On and Samsung SDI stayed in the 5th and 6th, respectively.
From January to November in 2022, the amount of energy held by batteries for electric vehicles registered worldwide was 446.0GWh, a 74.7% YoY increase. The market has been continuously growing since the 3rd quarter of 2020. CATL, a global top battery maker from China, has enjoyed a more than two-fold growth over the period, and other Chinese makers in the top 10 on the list, including BYD, have all boasted a triple-digit, high growth. On the other hand, the Japanese makers including Panasonic are still in the downward trend, with most of them recording below-market-average growth rates.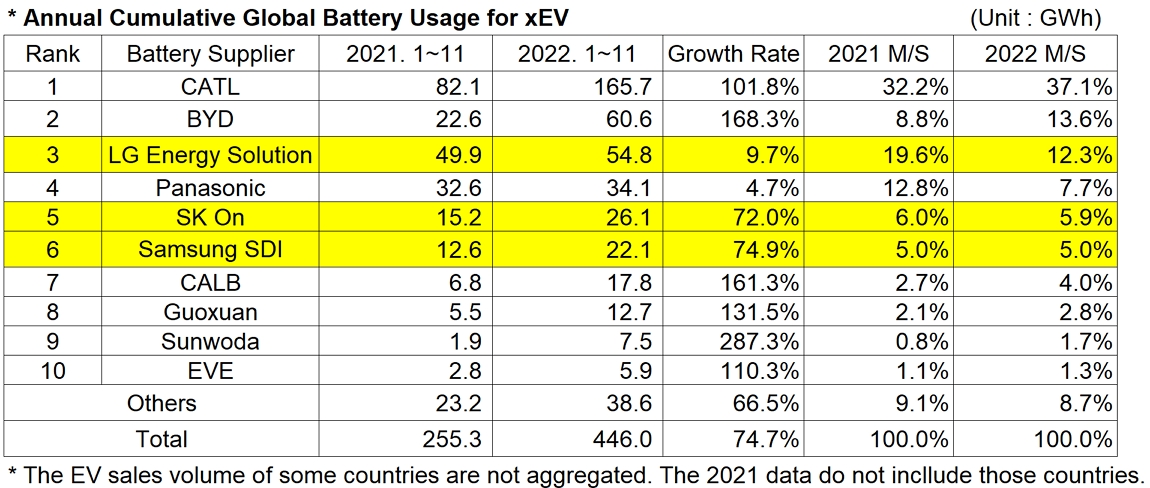 (Source: Global EVs and Battery Monthly Tracker – December 2022, SNE Research)
The market shares of K-trio have been steadily increasing, but they declined by 7.4%p from 30.5% to 23.1% compared to the same period of last year. LG Energy Solution ranked 3rd on the list with 54.8GWh, a 9.7% YoY increase. SK-On recorded 26.1GWh, a 72.0% increase, and Samsung SDI registered 22.1GWh, a 74.9% increase​.
The major driver behind the K-trio's growth was sales of electric vehicle models equipped with batteries of each company. SK-On has added more momentum to its growth based on sales of Hyundai Ionic 5 and 6 as well as the successful launch of KIA EV6. Samsung SDI's growth was driven by steady sales of Audi E-Tron, BMW i4, and FIAT 500. The growth of LG Energy Solution was favorably affected by strong sales of Volkswagen ID.4 and Ford Mustang Mach-E. Tesla's Model 3 and Y, taking up the biggest portions of batteries made by CATL, LGES, and Panasonic, have been leading the growth of the three makers as those models saw strong sales in November. The growth of BYD, outperforming LG Energy Solution, is definitely noteworthy in the global battery market of today. It seemed BYD earned a growth momentum from its increasing share in the rapidly growing Chinese market. On the other hand, in the European market, although LG Energy Solution has majorly focused on battery supply to European OEMs, it recently lost some of its battery installation portions in some models by Volkswagen and Volvo. In addition, a decline in the portion of LGES' batteries installed in Tesla models sold to China seems to be another factor to bring about such a change in the ranking​.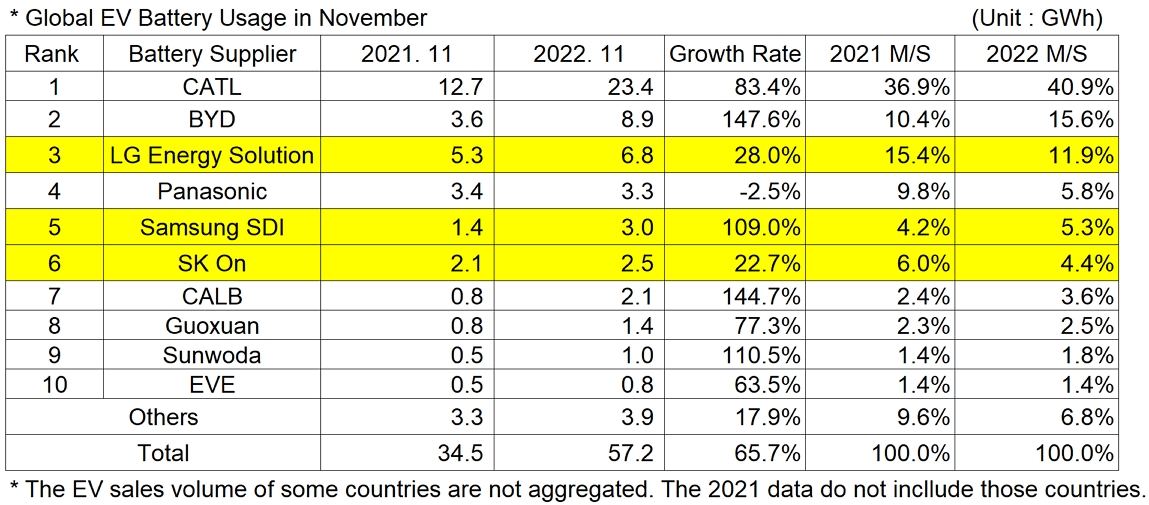 (Source: Global EVs and Battery Monthly Tracker – December 2022, SNE Research)​
The global EV battery usage in November 2022 was 57.2GWh, almost 1.7 times greater than the same month of previous year. With all major markets in China, the US, and Europe in the bullish trend, the Chinese market, in particular, has expanded almost 1.9 times that of the last year. Such expansion of the market has been led by a considerable number of Chinese makers.
China, of which total number of electric vehicles on the road has already taken up more than 60% of the entire global EVs (BEV+PHEV), reached a conclusion that its own electric vehicle industry has successfully gone into orbit, and thus, started to take a next step to penetrate the global market. Furthermore, unlike the US and Europe which have been busy keeping their guards up to protect national industries, China showed confidence by putting an end to its EV subsidy policy from this year. The subsidy policy was a key factor in vitalizing the Chinese EV market, and its total abolition may offer a good opportunity for OEMs who can now compete in the market solely based on their competitiveness in vehicle performance. Against this backdrop, it is expected to bear more significance for cell makers to secure cutting-edge technology and to strengthen their partnership with OEMs.
---
[1] The xEV sales of 80 countries are aggregated.
[2] Based on battery installation for xEV registered during the relevant period