K-trio's Market Shares Recording 24.8% in Global[1] EV Battery Usage[2] From Jan to October in 2022
- LG Energy Solution managed to keep the 2nd position amidst high growth of CATL and BYD in China
In the ranking of battery installation for global electric vehicles (BEV, PHEV, HEV) sold from January to October in 2022, LG Energy Solution managed to hold the 2nd position, while SK-On and Samsung SDI were ranked 5th and 6th, respectively.
From January to October in 2022, the amount of energy held by batteries for electric vehicles registered worldwide was 390.4GWh, a 75.4% YoY increase. Since the 3rd quarter of 2020, the electric vehicle market has maintained its growth momentum.
CATL, a global top battery maker from China, has boasted almost a double-fold growth, while other Chinese makers including BYD in the global top 10 have all recorded a triple-digit, high growth.
On the other hand, the Japanese makers including Panasonic remained in the downward trend, with most of them showing below-market-average growth rates.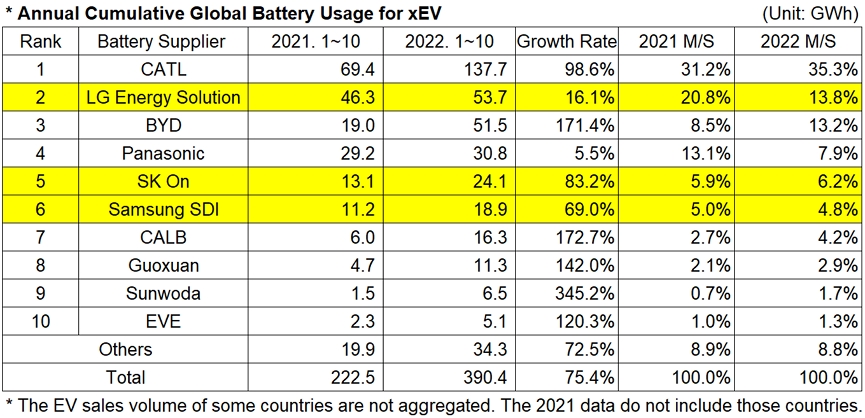 (Source: Global EVs and Battery Monthly Tracker – November 2022, SNE Research)​
Although the market shares of three K-battery makers have been in an upward trend, they declined by 6.9%p from 31.7% to 24.8% compared to the same period of last year. LG Energy Solution remained 2nd on the rank with 53.7GWh, a 16.1% increase from the same period of last year. SK-On recorded 24.1GWh, a 83.2% increase, and Samsung SDI exhibited 18.9GWh, a 69.0% increase.
The major driver behind the K-trio's growth was sales of electric vehicle models equipped with batteries of each company. With steady sales of Hyundai Ionic 5 and KIA EV6 as well as the launch of Ionic 6, SK-On has further accelerated its growth momentum in the market. Samsung SDI's growth was driven by steady sales of Audi E-Tron, BMW iX, BMW i4, and FIAT 500. LG Energy Solution was favorably affected by strong sales of Volkswagen ID.4 and Ford Mustang Mach-E. Despite a relatively sluggish sales of Model 3 and Y by Tesla in October compared to August and September, CATL, LGES, and Panasonic have sustained steady growth. BYD took the 3rd place, enjoying a high sales record of BEV and PHEV in China.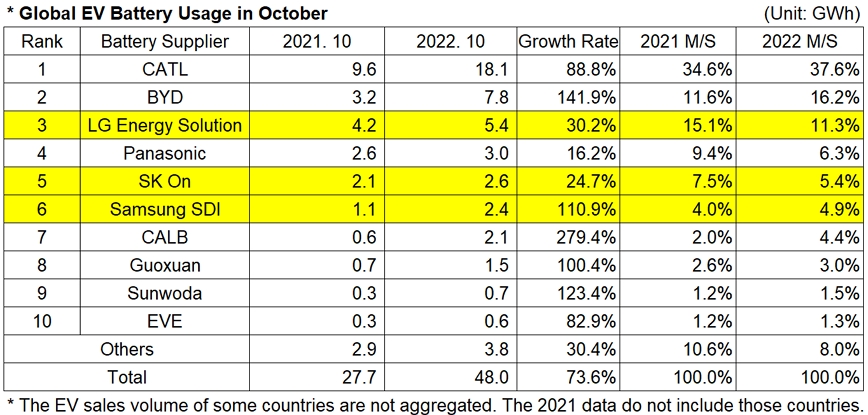 (Source: Global EVs and Battery Monthly Tracker – November 2022, SNE Research)
​The global EV battery usage in October 2022 was 48.0GWh, more than 1.7 times greater than the same month of previous year. Amidst the upward trend in major markets such as China and the US, the Chinese market expanded more than twice as big as previous year, with a considerable number of Chinese makers taking the lead in the market expansion. The EV battery market has maintained the bullish trend for the past 28 months despite supply and demand issues in raw material. The market shares of Chinese battery makers have been rising on a continuous basis.
In response to the US Inflation Reduction Act (IRA) enacted to protect the US domestic industry against China's strong growth, battery cell makers in Korea formed an alliance and started to make intensive investments in North America and Europe to diversify their supply and demand channel. Once the details of the Act are specified, it seems more attentions should be paid to the strategies of global cell makers, including the K-trio, that are expected to focus on securing the stability in their supply and demand.
---
[1] The xEV sales of 80 countries are aggregated.
[2] Based on battery installation for xEV registered during the relevant period