LG Energy Solution Remained Top in Non-Chinese Global[1] EV Battery Usage[2] from Jan to September 2022
- The K-trio recorded 56.0% of market shares combined, while the Chinese makers boasted a 'rapid growth,' with CATL ascending to 2nd place
In the ranking of battery installation for global electric vehicles (EV, PHEV, HEV) excluding the Chinese market sold from January to September in 2022, Korea's LG Energy Solution stayed on top of the list, and SK-On and Samsung SDI safely landed in the top 5 list. The combined market shares of K-trio recorded 56.0%, staying in an upward trend.
This tally excludes the usage of batteries installed in electric vehicles sold in China from that of the global market.
From January to September 2022, the amount of energy held by batteries for electric vehicles registered worldwide except in China was 145.0GWh, 40.4% YoY increase.
By company, LG Energy Solution kept the No. 1 position with a 18.4% increase to 43.77GWh. CATL, one of the Chinese battery makers, climbed to be the 2
nd
place, recording a magnificent 112.4% growth and outperforming Panasonic even in the non-Chinese market.
​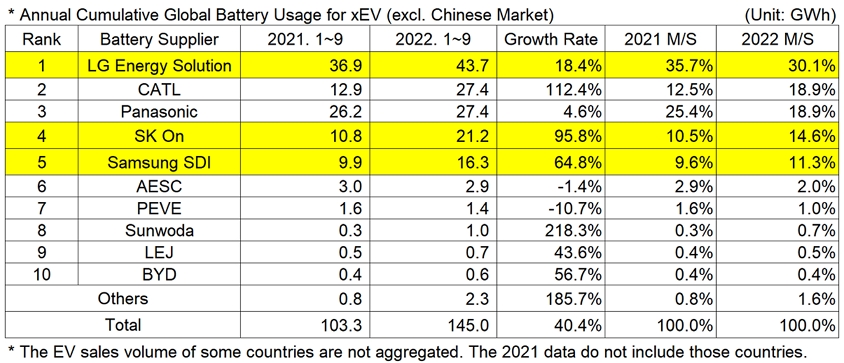 (
Source: Global EV and Battery Monthly Tracker – October 2022, SNE Research
)
SK-On recorded 21.2GWh, a 95.8% YoY growth, and saw its market share increased by 4.1%p.
Samsung SDI ranked 5th with 16.3GWh, a 64.8% YoY increase.
The combined market shares of K-trio were 56.0%, a slight increase by 0.2%p compared to the same period of last year.
On the other hand, the Japanese battery manufacturers such as Panasonic, PEVE, and LEJ showed a relatively sluggish growth. Except LEJ, the other Japanese makers saw their market shares declined from the previous year.
Unlike the Japanese counterparts, some of the Chinese manufacturers including CATL have been enjoying a triple-digit high growth which should be described as 'explosive' in growth. CATL finally captured the 2
nd
place with a nearly 2.1 times growth from previous as BEV sales including Tesla Model (made in China and exported to Europe, North America, and Asia), Mercedes-Benz EQS, BMW iX3, and Cooper increased. Sunwoda ranked 8
th
as the demand for Dacia Spring Electric by Renault in Europe increased.
The upward trend found in the K-trio was mainly led by strong sales of electric vehicle models equipped with batteries of each company. LG Energy Solution's growth was based on the steady sales of
Volkswagen ID.4, Tesla Model 3 and Y, and Ford Mustang Mach-E. SK-On enjoyed a high growth based on the popularity of Hyundai Ionic 5, and KIA EV6. With a recent launch of new model like Ionic 6, SK-On got boosted in its growth. Samsung
SDI was backed by solid sales of Audi E-Tron line-up, BMW i line-up, PIAT 500, and Jeep Wrangler PHEV.

(
Source: Global EV and Battery Monthly Tracker – October 2022, SNE Research
)
Meanwhile, battery installation in September 2022 was 22.0GWh, a 33.4% YoY increase.
By company, LG Energy Solution remained top on the list, and SK-On and Samsung SDI showed a double-digit growth. CATL from China, with a growth rate of 68.6%, recorded 4.6GWh, chasing the frontrunner, LG Energy Solution. Sunwoda and CALB maintained their upward trend, entering the top 10 list. CALB, in particular, showed the highest growth among the top 10 companies, a dramatic increase from 0.48MWh in the same month of last year to 83.95MWh in September 2022.
Same as last year, LG Energy Solution ranked 1
st
from January to September 2022 in the non-Chinese market. However, those explosive growths exhibited by the Chinese makers such as CATL and Sunwoda made the competition with the K-trio much fiercer. Recently, movements in the market to escape from China by lowering dependence on the Chinese makers have been detected in response to the enactment of Inflation Reduction Act in the US. More attentions should be paid to whether the movements to escape from Chinese products may have impacts on the non-Chinese market down the road.
---
[1] The xEV sales of 80 countries are aggregated.
[2] Based on battery installation for xEV registered during the relevant period.