K-trio's Market Shares Recording 25.0% in Global[1] EV Battery Usage[2] From Jan to August in 2022
- K-battery makers maintained their positions amidst a steep growth of CATL and BYD from China
In the ranking of battery installation for global electric vehicles (BEV, PHEV, HEV) sold from January to August in 2022, CATL still topped the list. LG Energy Solution stayed at the 2nd place, while SK On and Samsung SDI ranked 5th and 6th with a double-digit, high growth.
From Jan to August in 2022, the amount of energy held by batteries for electric vehicles registered worldwide was 287.6GWh, a 78.7% YoY increase. A bullish trend in the electric vehicle market has continued since the 3rd quarter of 2020.
Those Chinese makers in the global top 10 boasted a triple-digit growth, with CATL and BYD leading the market growth.
Meanwhile, the Japanese makers including Panasonic still stayed in the downward trend, with most of them registering the growth rates below the market average.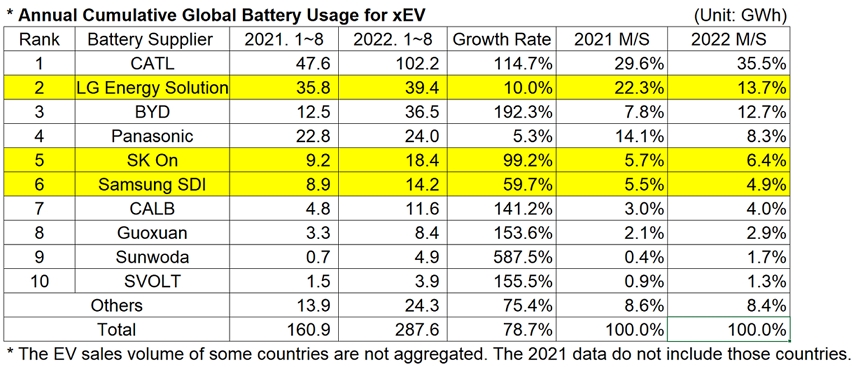 (Source: Global EVs and Battery Monthly Tracker – September 2022, SNE Research)​
The market shares of three K-battery makers have decreased by 8.5%p from 33.5% to 25.0% compared to the same period of last year, but they all managed to keep their positions from the last month; 2nd, 5th, and 6th. LG Energy Solution kept the 2nd place in the ranking with 39.4GWh, a 10.0% increase from the same period of last year. SK-On recorded 18.4GWh, 2 times greater than the previous, and Samsung SDI registered 14.2GWh, a 59.7% increase.
​
The K-trio's growth was mainly propped up with sales of electric vehicle models equipped with batteries of each company. Hyundai Ionic 5 and KIA EV6 with which SK-On's battery is equipped have maintained a steady sale, and Samsung SDI's growth was mainly propelled by the sales increase of Audi E-Tron, BMW iX, and i4. LG Energy Solution again registered a double-digit growth thanks to strong sales of Volkswagen ID.4, and Ford Mustang Mach-E as well as increased sales of Tesla Model Y.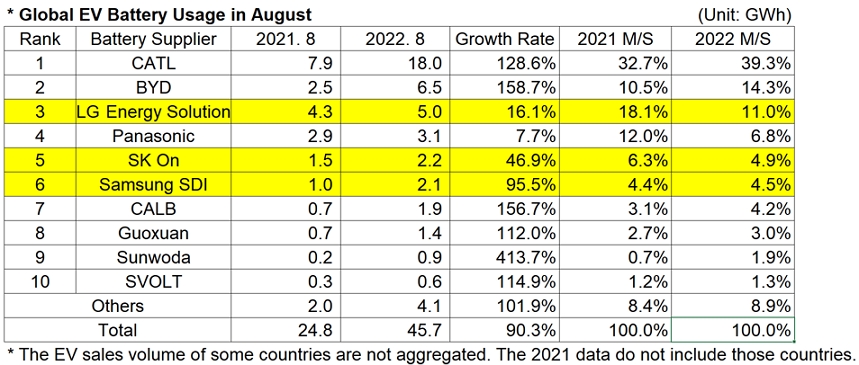 (Source: Global EVs and Battery Monthly Tracker – September 2022, SNE Research)
The global EV battery usage in August 2022 was 45.7GWh, more than 1.9 times higher in comparison with the same month of previous year. With major markets such as China and the US in the upward trend, the battery usage in the Chinese market increased more than 2.3 times from the same month of last year, solidifying the leading position of Chinese market in the global EV market. The EV battery market has kept the bullish trend for the past 26 months despite low consumer confidence during the COVID-19 pandemic. The market shares of Chinese battery makers have been in a non-stop, upward trend.
In terms of battery supply and demand forecast by region, it is not expected that China would see any supply shortage till 2030. However, in the European and North American regions, battery supply is expected to be tight despite upcoming plans of production line expansion. As cell makers, including K-trio companies, are expected to focus on investments in the North American region after the implementation of Inflation Reduction Act (IRA), it has become more necessary to keep eyes on possible fluctuations in battery supply and demand after the Act comes into force.
​​
​
---
[1] The xEV sales of 80 countries are aggregated.
[2] Based on battery installation for xEV registered during the relevant period