2022 1H Global[1] EV & Battery Performance Review
In 2022 1H, the global electric vehicle (BEV, PHEV) market marked a 63% YoY growth, recording 4.285 million units sold, despite difficult market circumstances such as the prolonged COVID-19 pandemic, the Russia-Ukraine war, and the increase of electric vehicle price influenced by a rise in raw material price.
Taking a closer look at different regions, China, propped up with the government policy to encourage the distribution of electric vehicles, recorded a high growth of 121% and took the lead in the global market. North America marked another high growth of 59% compared to the previous year based on the eco-friendly policy carried out by the Biden administration. On the other hand, Europe saw only a 5% YoY growth due to the conflicts between Russia and Ukraine.
In terms of vehicle type, passenger vehicles, buses, and trucks recorded a 62%, 71%, and 74% growth respectively, compared to the same period of last year.
[ EV (BEV+PHEV) Sales Record by Region ]
​
[ EV (BEV+PHEV) Sales Record by Vehicle Type ]

Looking at the sales record of car OEMs, BYD topped the global ranking, outperforming Tesla, thanks
​
to the booming electric vehicle market in China. Along with BYD, lots of OEM makers in China recorded a high growth compared to the same period of last year.
Meanwhile, among other global OEMs, TESLA, HKMC, Stellantis, Renault-Nissan, and Ford put up a good fight, whereas VW, BMW, Daimler, Toyota, and GM recorded a little sluggish sale.
[EV (BEV+PHEV) Sales Record by Car OEM ]
​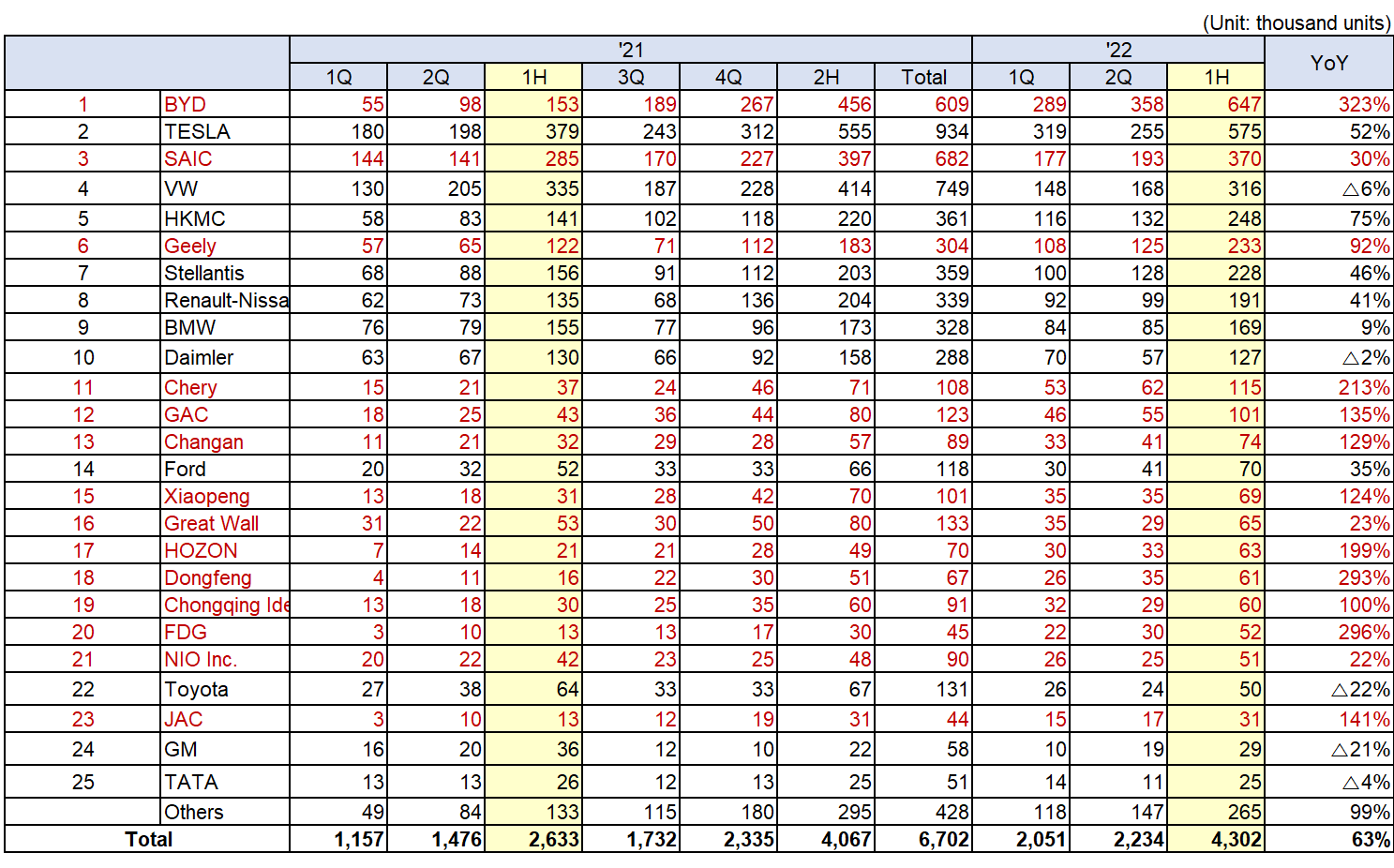 In 2022 1H, the market of batteries for electric vehicles recorded 202GWh, a 76% increase from the same period in the previous year.
A boom in the electric vehicle market of China has led the battery makers in the nation to enjoy a high growth. Among the other battery makers than Chinese cmpanies, SK On and SDI posted a 124% and 50% growth respectively, but LGES and Panasonic have seen their growth rate slowing down.
Boasting the sales of 69GWh, CATL widened the gap with the 2
nd
players' group and kept its matchless, top position. BYD moved up the list and ranked 3
rd
, thanks to strong sales of its own electric vehicles. The 2
nd
tier companies such as CALB, Guoxuan, and Sunwoda also marked a high growth.
[ Sales Record by Battery Maker]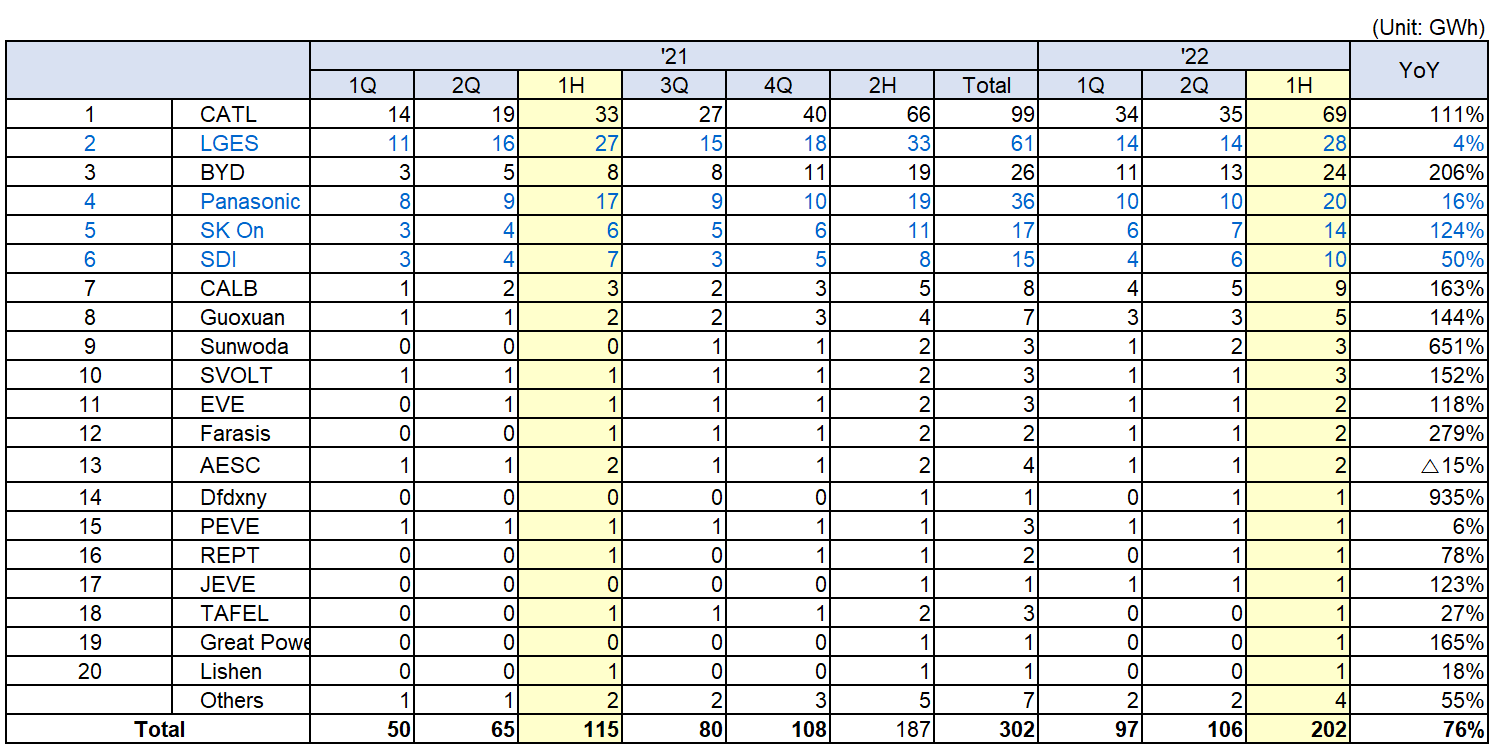 With regards to market shares by battery maker, companies in the global top 10 have kept their market shares above 90%.
CATL expanded its market share from 29% in 1H last year to 34% in 1H this year, a noteworthy 6% increase, whereas BYD took up 12% of market share in the former half of this year. On the other hand, LGES and Panasonic have seen their market shares dropping from the last.
[ Market Shares by Battery Maker ]

The sales record of battery makers in the global marker excluding the China market, LGES and Panasonic ranked 1
st
and 2
nd
respectively, while CATL and SK On, propped up with their high growth, have expanded their stakes even in the global stage.
[
Sales Record in Non-Chinese Market by Battery Maker
]

In terms of chemicals used in battery manufacturing, the proportion of LFP has kept increasing and reached 33% in the first half of 2022.
[Record of Battery Chemical Use ]
​
​

With regards to the record of battery use by type, the ratio of prismatic batteries rose 12%, while the ratios of cylindrical and pouch types both registered a 5 to 7 % decrease.
[ Record of Battery Use by Type ]
​
​

(Source: Global EVs and Battery Monthly Tracker – 2022 July edition, SNE Research)
---
[1] Sales of electric vehicles in 80 nations are aggregated.