From Jan to May in 2023, Global[1] EV Battery Usage[2] Posted 237.6GWh, a 52.3% YoY Growth- K-trio's M/S recording 23.3%, with LGES ranked 3rd
From January to May 2023, the amount of energy held by batteries for electric vehicles (EV, PHEV, HEV) registered worldwide was approximately 237.6GWh, a 52.3% YoY growth. Driven by the increasing shares in the Chinese domestic market, BYD continued to be ranked 2nd with a triple-digit growth compared to the last year.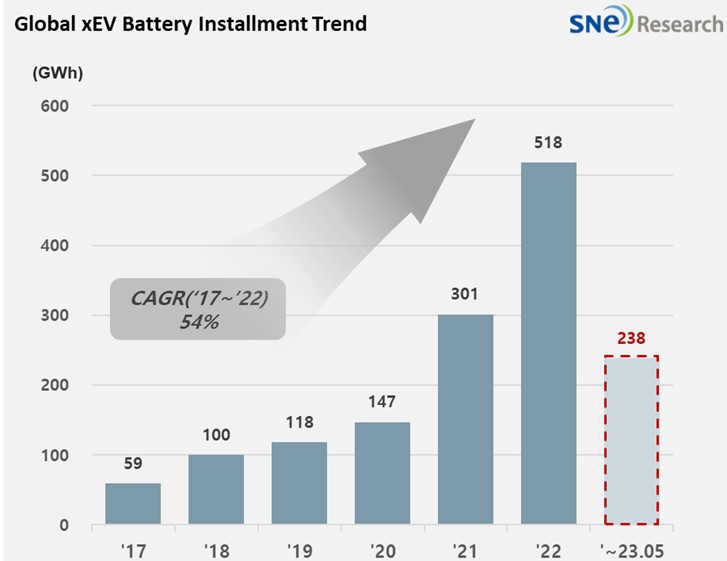 (Source: 2023 June Global Monthly EV and Battery Monthly Tracker, SNE Research)
​
The combined market shares of K-trio companies were 23.3%, declined by 2.5%p compared to the same period of last year, but all of them witnessed an increase in terms of battery usage. LG Energy Solution took the 3

rd

position, exhibiting a 56.0%
(33.0GWh)
YoY growth, while SK-On ranked 5

th

with a 9.0%
(12.4GWh)
growth and Samsung SDI ranked 7

th

with a 28.8%
(9.9GWh) growth.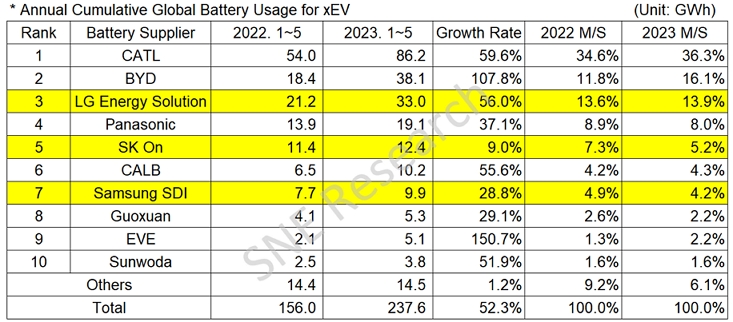 (Source:
2023 June Global Monthly EV and Battery Monthly Tracker, SNE Research
)
Such upward trend in the growth of K-trio was mainly affected by strong sales of electric vehicle models equipped with batteries of each company
. Samsung SDI remained in an upward trajectory, thanks to steady sales of Rivian's pick-up truck R1T, BMW i4/X, and Piat 500electric. SK On's growth was mainly driven by the increasing sale of Hyundai Ionic 5, KIA EV6, and Hyundai's e-truck model Porter 2 Electric, and Ford F-150. KIA's EV9, whose pre-order exceeded 10k units after its official release, is reportedly to have the 99.8kWh high-capacity battery from SK On, leading to an expectation for SK On's continuous growth. LG Energy Solution recorded the highest growth among K-trio companies based on a strong sale of Tesla Model 3/Y, Volkswagen ID. 3/4, and Ford Mustang Mach-E.
Panasonic, the only Japanese company in the top 10 on the list, recorded 19.1GWh, a 37.1% YoY growth. Panasonic, who is one of the major battery suppliers to Tesla, has most of its battery usage installed in Tesla models in the North American market. The sale of Model 3 Long Range, which was temporarily halted, has resumed recently in the States. As it has been reported that LGES battery is installed in the Long-Range model, it becomes noteworthy whether there would be possible changes in the market share of Panasonic.
With a 59.6% YoY growth, CATL from China accounted for more than 30% of market share, making it as the only battery supplier in the world to take up such high market share. It still remained at the top position in the global battery usage ranking. CATL's battery has been installed in Tesla Model 3/Y as well as Chinese commercial vehicles and major electric passenger vehicle models in the Chinese domestic market such as SAIC's Mulan, GAC Group's Aion Y, and NIO's ET5, fueling the continuous growth of the battery maker. BYD has been very popular in the Chinese domestic market based on its price competitiveness through vertical
SCM integration such as in-house battery supply and vehicle manufacturing.
Recently, BYD has been enjoying an explosive growth by expanding its market share in
Europe and the Asian region except China with its Atto3 model.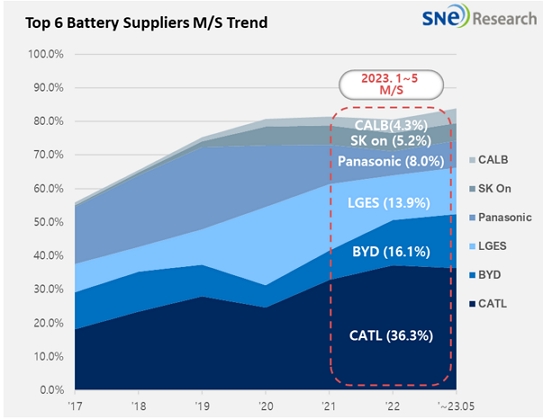 (Source:
2023 June Global Monthly EV and Battery Monthly Tracker, SNE Research
)
In 2023, in preparation for a possible gradual decline in the growth of Chinese domestic market, which is the world's largest EV market, the Chinese battery suppliers are expected to enter overseas markets such as Europe. Especially, Europe – regarded as the 2
nd
largest EV market next to China – is highly likely to become the most competitive area for battery and EV companies as the region has been active in adopting and implementing the green policy. In addition, as there are less volatile political issues in Europe compared to the US, the region has drawn an attention from key market players as a strategic base to start the diversification of battery supply chain. Furthermore, with the Chinese battery makers entering the European market in earnest, the installation rate of LFP battery in Europe is also expected to increase in future.
---
[1] The xEV sales of 80 countries are aggregated.
[2] Based on battery installation for xEV registered during the relevant period.