From Jan to Mar in 2023, Global[1] EV Battery Usage[2] Posted 133.0GWh, a 38.6% YoY Growth
- BYD, maintaining the 2nd position with a triple-digit growth
- K-trio's M/S posting 24.7%, with LGES ranked 3rd on the list
From January to March 2023, the amount of energy held by batteries for electric vehicles (EV, PHEV, HEV) registered worldwide was approximately 133.0GWh, a 38.6% YoY growth. BYD from China boasted more than two-fold growth compared to the last year, maintaining the 2nd position and following CATL on the list.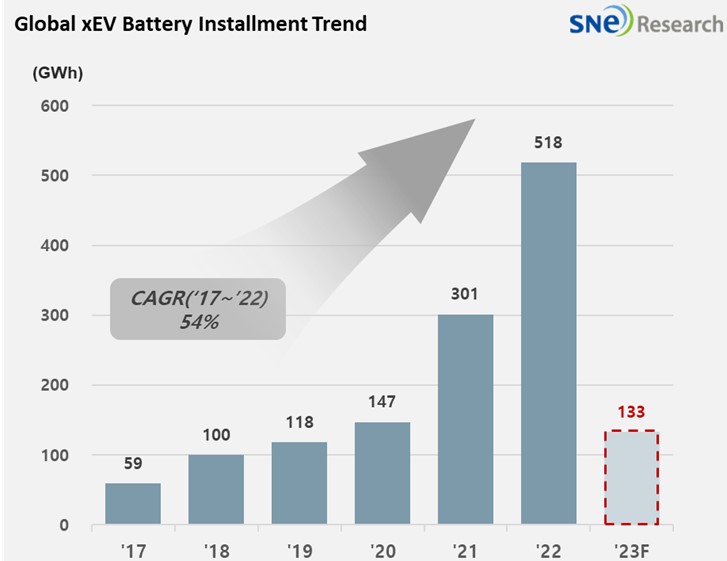 (Source: 2023 April Global Monthly EV and Battery Monthly Tracker, SNE Research)
​
The combined market shares of K-trio companies were 24.7%, dropped by 1.3%p compared to the same period of last year, but overall, they were all in an upward trend. LGES ranked 3rd, posting a 37.5% YoY growth. SK On ranked 5th with a 5.1% growth, while Samsung SDI took the 6th place on the list with a 52.9% growth.
​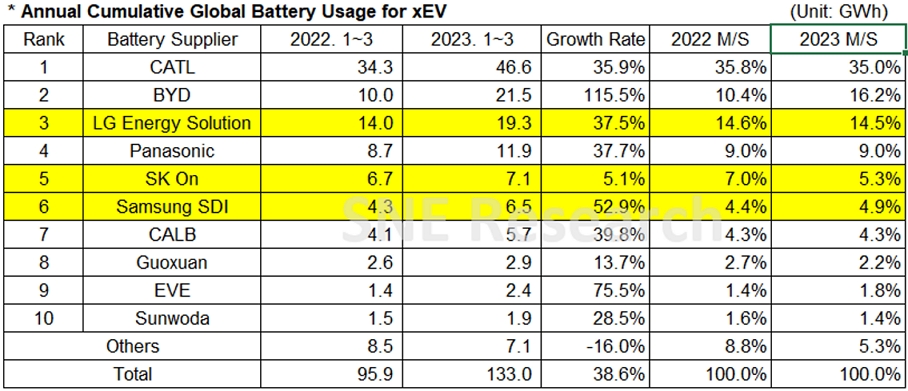 (Source: 2023 April Global Monthly EV and Battery Monthly Tracker, SNE Research)​
Such upward trend in the growth of K-trio was mainly affected by sales of electric vehicle models equipped with batteries of each company. SK-On continued to grow thanks to the increasing sale of Hyundai Ionic 5, KIA EV6, and VW ID.4. KIA EV9, about to be launched shortly, has been known to use high-capacity battery, which draws attention from the industry whether it can add more momentum to the growth of SK-On. Samsung SDI exhibited the highest growth among the three Korean battery makers as BMW i4 and iX has drawn the popularity on the global stage and Rivian's pick-up truck R1T/S has been sold in greater numbers. LGES has maintained a double-digit growth thanks to strong sales of Tesla Model 3/Y, Ford Mustang Mach-E, and Volkswagen ID. 3/4.
Panasonic, the only Japanese company in the top 10 on the list, recorded 11.9GWh, a 37.5% YoY growth. As one of the major battery suppliers to Tesla, the usage of battery made by Panasonic was mostly consisted of those installed in Tesla models in the North American market.
CATL from China recorded 46.6GWh with a 35.9% YoY growth. Its market share reached 35.0%, one-third of the global market, allowing CATL to keep the world's top position. As CATL's battery has been highly sought after not only by Tesal for Model 3/Y but also in the Chinese commercial and passenger vehicles such as SAIC's Mulan and GAC Group's Aion Y, it is expected to firmly hold the No. 1 position in the global market. BYD has drawn a great popularity in the Chinese domestic market based on its price competitiveness through vertical SCM integration such as in-house battery supply and vehicle manufacturing. As BYD is known to enter the European market as well as the Korean market soon, attentions should be paid to potential changes in the growth of BYD.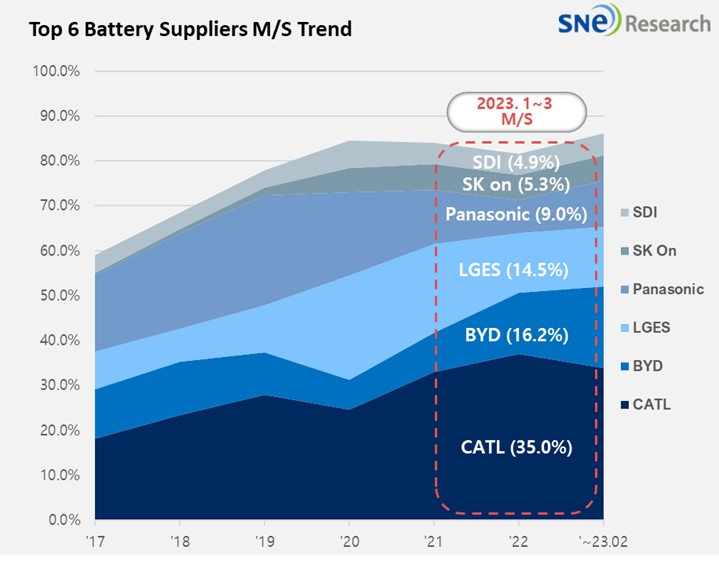 (Source: 2023 April Global Monthly EV and Battery Monthly Tracker, SNE Research)
​
From Jan to Mar 2023, the growth of global battery usage registered 38.6%, a slight drop from the last year, but still showed a solid upward trend. This is interpreted as it has been positively affected by the solid formation of EV market in China and the protectionist measures announced by Europe and the US. The list of electric vehicles eligible for tax credits released with the US IRA had most of American auto groups included, and VW's ID.4 was first to be included in the list as a European car. To have a price competitiveness in the North American market showing the strongest growth among Europe, China, and the North America, it appears to be a major challenge to secure infrastructure and resource supply network.
​
---
[1] The xEV sales of 80 countries are aggregated.
[2] Based on battery installation for xEV registered during the relevant period.