LG Energy Solution accelerates to solidify the No.1 position in non-Chinese global EV battery usage from January to May 2021
- Samsung SDI maintains 3rd place, and SK Innovation retakes 4th place, but CATL continues threat
In the ranking of battery installation for global electric vehicles (BEV, PHEV, HEV) excluding the Chinese market sold from January to May 2021, Korea's LG Energy Solution maintained the first position, while Samsung SDI and SK Innovation continued triple-digit high growth. SK Innovation retook 4th place from Chinese company CATL. However, CATL continues to threaten Samsung SDI and SK innovation by placing 3rd place. This tally excludes the usage of batteries installed in electric vehicles sold in China.
The amount of battery installation for electric vehicles registered worldwide except in China was 46.2GWh, more than 2.2 times higher than the same period of the previous year.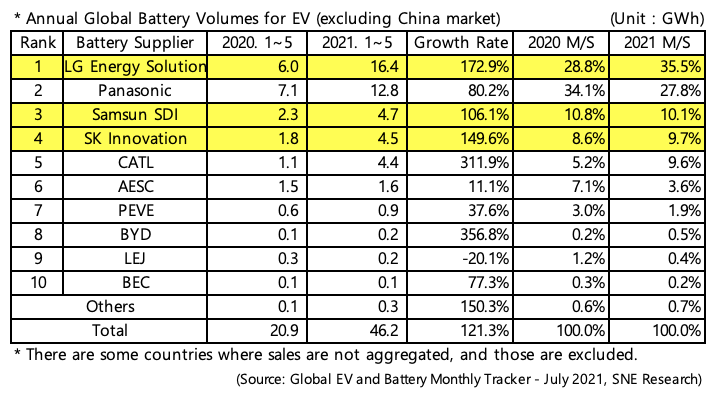 By company, LG Energy Solution took the lead with 2.7 times to increase to 16.4GWh. It further widened the gap with 2nd-placed Panasonic, accelerating its consolidation of first place. Samsung SDI recorded 4.7GWh, a 106.1% increase, and maintained 3rd place, as in the same period last year. SK Innovation achieved high growth of about 2.5 times, pushed out CATL by a narrow margin, and returned to 4th place.
Although CATL was pushed to 5th place, sales of BEV such as Tesla Model 3, which were exported from China to Europe, Peugeot e-2008, and Opel (Vauxhall) Corsa surged. On the strength of its sales, CATL showed rapid growth of more than four times, chasing not only SK Innovation in 4th place but also Samsung SDI in 3rd place. It is noteworthy how the three-way race over the 3rd place in the global market excluding China will progress in the future.
The growth of the three Korean companies was led by strong sales of electric vehicles equipped with each company's batteries. LG Energy Solution's high growth was driven mainly by the surge in sales of Volkswagen ID.3 and ID.4 and Ford Mustang Mach-E. In Samsung SDI, Audi E-Tron EV, Fiat 500, and Ford Kuga PHEV sales growth led to growth. SK Innovation continued its rapid growth due to solid sales of Kia Niro BEV, Hyundai Kona BEV, and Mercedes-Benz GLE PHEV.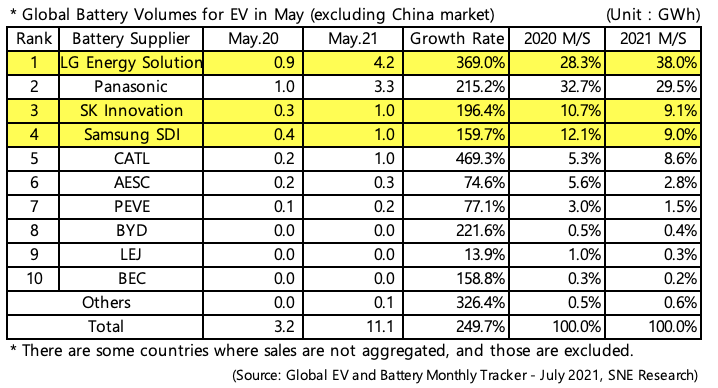 Meanwhile, battery installation in May 2021 was 11.1GWh, 3.5 times increase from the same month of the previous year. By company, LG Energy Solution occupied the top with a growth rate of nearly 4.7 times. SK Innovation and Samsung SDI continued to show triple-digit growth. CATL showed the highest growth among major suppliers.
Although the three Korean companies have established a strong position in the global electric vehicle market, excluding China, the competition is getting fiercer as CATL rises.