Title: HYUNDAI・KIA is the strong contender, in the global EV sales during 2020 Jan - Aug
- HYUNDAI・KIA ranked 4th place and 5th place respectively in EV and PHEV segment
In the global EV and PHEV sales during 2020 Jan – Aug, Tesla and VW Group ranked 1st place, respectively. Furthermore, HYUNDAI・KIA ranked 4th place and 5th place in EV and PHEV segment.
In EV sales, Tesla increased 10.9% year-on-year, maintaining the 1st place with increased sales of Model 3 made in china. VW group also ranked 3rd place with increased sales of Audi E-tron (EV), Porsche Taycan (EV), VW e-Up!. They grew 111.2% year-on-year. Also, PSA ranked 7th place and has grown rapidly more than 8 times with increased sales of Peugeot e-208 and Opel Corsa. GAC group is the only Chinese company that has grown as the sales of Aion S has increased, and they ranked 9th place.
Renault-Nissan-Mitsubishi's sales declined 5.2% as sales of Nissan Leaf decreased, but the rank has ascended, 2nd place. GM group has maintained 5th place.
The Chinese company, BYD group, JAC group, and BAIC's growth has been sluggish, due to the contraction of Chinese market in the first half of 2020.
On the contrary, HYUNDAI・KIA ranked 4th place (6th place, a year ago), with the increased sales of Niro EV and Hyundai Porter2 Electric Truck.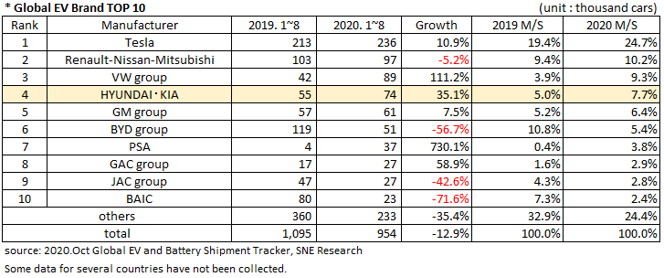 In the PHEV segment, VW group has grown more than 3 times, ranking 1st place with Passat GTE, and Audi Q5, A3. Daimler also ranked 4th place (up 4 steps, year-on-year) with increased sales of Mercedes A class and C class. PSA firstly entered TOP 10, ranking 8th place (up 3 steps, year-on-year), selling 26 thousand cars including Peugeot 3008 PHEV. Ford ranked 8th place, up 3 steps year-on-year thanks to the surge in sales of KUGA.
The Chinese company, Geely group's rank and market share has increased thanks to VOLVO models such as XC40. The new company, Leading Ideal Automobile showed a rapid growth, and entered TOP10.
However, BMW has grown only 10.5%, under the average market growth, so they yielded the 1st place to VW group. Renault-Nissan-Mitsubishi and TOYOTA group's rank and market share all decreased because Mitsubishi Outlander and PRIUS PHEV became obsolete, so their sales also declined.
HYUNDAI・KIA has grown 12.9% year-on-year, ranking 5th place thanks to increased sales of Ceed PHEV.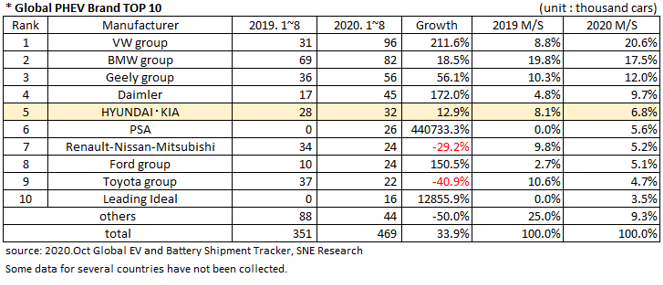 As European, American and Chinese market are recovering, the sales of HYUNDAI・KIA has been increasing constantly. In the future, the major EV market is forecasted to grow, HYUNDAI・KIA's position will be further strengthened.