- Hyundai EV and PHEV couldn't make into TOP 10. But their sales record is growing exponentially.
Tesla and BYD maintained their 1st place in sales of EV, PHEV from January-September of 2018. Among them, KIA marked the 10th place in the PHEV area. But Hyundai did not enter the Top 10 in both categories, but sales volume surged leaving possibilities of entering Top 10 in the future.
In the EV category, Tesla, 1st in the market, expanded gap with BAIC, 2nd in the market, by more than 50,000 units. Thanks to model 3, sold more than 22,000 in September alone. BAIC and Nissan also recorded double-digit sales maintained their position in the market.
Hawtai, JMC, Geely Emgrand were out of the Top 10 in the same period of last year. All returned to the Top 10 followed by EV160, Jiangling E200, EC7 sales increase. Also, BYD, CHERY, and JAC moved up their position followed by the sales increase of Yuan EV, Tiggo 3xe and IEV6E.
However, Renault sale increase was far below the market average. Therefore they lost two ranks in the market.
Although, Hyundai remained at 18th place, same as last year. But their sales volume surged by 75.5% leaving the possibility to enter Top 10 in the future.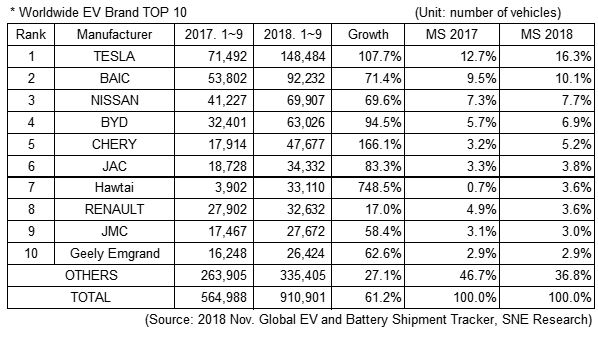 For PHEV category, BYD was 2nd place in the same period of last year. Thanks to great sales of Qin, Tang, Song DM, they took 1st place in the market. BMW and ROEWE climbed up their position by one with strong sales of the 530e and ei6. Mitsubishi, Volkswagen, and Volvo moved up their position in the market, thanks to the high sales volume of Outlander, Golf GTE, XC60. However, Toyota, Mercedes, and Chevrolet lost their position in the market due to their sales declined and stagnated.
KIA recorded the highest growth rate among major companies thanks to the strong sales of Niro and Optima. This moves them up from 13th to Top 10. And they maintained Top 10 this year.
Although, Hyundai did not reach the Top10 but remained in 18th place same as last year. But total sales volume of 6,175 unit is 5 times greater than usual. Also, their exponential growth is not temporary, but it continues to grow steadily.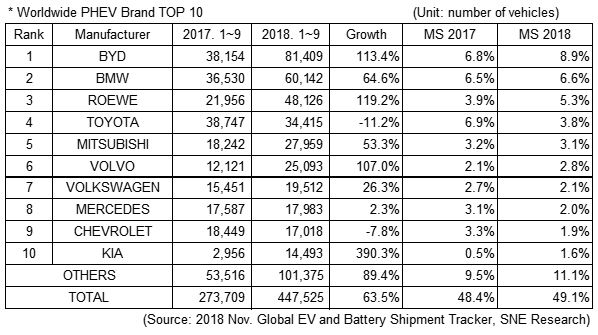 Hyundai and KIA are expected to see further growth in sales of new models of Kona EV, Niro EV, and Soul. As a result, they will strengthen the position of EV and PHEV brands