- China will revise electric vehicle subsidies downward in 2019.
- Electric vehicles drive less than 200km won't receive subsidies about 40% reduction in subsidies.
China Ministry of Industry and Information Technology (MIIT) will strengthen standards of subsidizing personal electric vehicle. In addition, they will create new conditions cut off subsidies. As a result, it will lead to kick out low energy density electric vehicles from the market.
According to SNE Research, a global electric market research firm, MIIT has established standards of reduction in subsidies on personal electric vehicles. They are coordinating with industry. MIIT is holding the same role as Ministry of Trade, Industry, and Energy of Korea.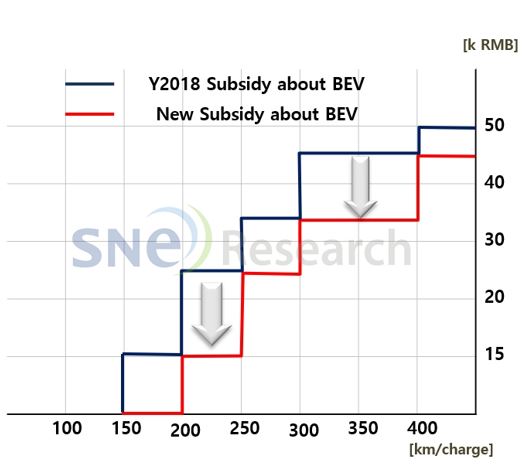 China is currently providing subsidies differently based on the driving mileage of electric vehicles. As of November 2018, lowest subsidies they provide is 15000 yuan ( drive more than 150 km below 200km) and the maximum is 50000 yuan (drive more than 400km).
The new standard will reduce subsidy based on their mileage by one level. 15000 yuan will be provided to vehicles drive more than 200km and less than 250km. Vehicles drive more than 400km will receive 45000 yuan under the new standard. Vehicles drive between 150km~200km are no longer eligible for a subsidy.

Additional subsidy reduction is scheduled, specifically for vehicles installed low energy density battery. Vehicle battery densities below 140Wh/Kg are subject to further subsidy reductions. MIIT will support companies who can create high-density secondary batteries such as Nickel- Cobalt -Manganese(NCM) batteries to create market competitiveness.
This policy is expected to further accelerate the restricting small battery companies and the monopoly of the market by large companies with technological powers. CATL, BYD are the 1st and 2nd place in the market. Their market share was 43.9%. But 1st half of the year 2018 their market share grew. Reason for that is the reduction of subsidy in the first half of 2018.
From June 12th, 2018, subsidy program for an electric vehicle will be subdivided. This amendment prohibits vehicles claiming subsidy who drive more than 100km but less than 150km. But vehicle drive over 250km will receive the greater amount of subsidy. This is expected to be an ignition to set up the standard in the market.
Most of the responses from Chinese industries are negative. Many of them say that the gap of a recent decline in the electric vehicle subsidies is a serious and short amount of time is after policy change is a great burden. Some also claim that companies will only be going to focus on improving energy density, therefore, safety will be the less important factor.
Consumer opinion is also negative. The survey from Chinese media shows that 46% of a consumer in China said that they can't accept the price increase in the same model. Other 39% have said they will consider if there are rewards. 15% who said they can accept the price increase said they can accept if the price increase is within 10%.
SNE research Director Kim Byung-Joo said that due to the change in subsidy in the electric vehicle, companies manufacture lithium-phosphorus (LFP) will experience difficulties keep their business. Their products will be used in the area of Energy store device (ESS) or small electric vehicles do not affect by subsidy.