In 2017 global battery shipments for electric vehicles (EV, PHEV, and HEV), Panasonic rank first, followed by CATL and BYD. Korea's LG Chem and Samsung SDI took fourth and fifth place, respectively.
In 2017, the global battery shipments for electric vehicles came to 59.5 GWh, up 37% year-on-year.
With a total of 4.8 GWh (2.6-fold increase), LG Chem ranked fourth chasing Panasonic, CATL, and BYD. It climbed three places from seventh in 2016.
Samsung SDI shipped a total of 2.4 GWh, up 80.3 percent from the last year, climbing up four places from ninth to fifth.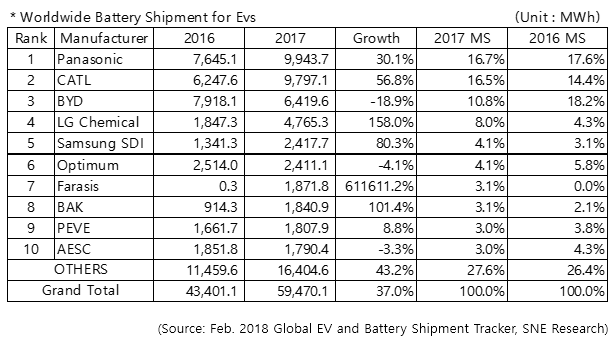 Previously, Samsung SDI was followed by Optimum, and the difference between the two in the shipments during Jan - Nov 2017 was as close as 483 MWh.
Amid the close competition for the fifth position, Optimum exceeded Samsung SDI by around 0.9 GWh in December 2017, and Optimum was expected to overtake Samsung SDI based on the shipment growth over the past eleven months.
However, in December, while Samsung SDI's shipments went up by 36.7%, Optimum's shipment plunged down by 33.0%. Owing to the Optimum's sluggish performance, Samsung SDI managed to hold fifth place in the 2017 annual shipments with a narrow lead of 6.7 MWh.
The growth of LG Chem and Samsung SDI is largely driven by increasing sales of models equipped with batteries of the two companies. LG Chem's shipments increased sharply with the surging sales of Hyundai Ionic EV, Chevrolet BOLT, and Renault Zoe. Samsung SDI's growth was driven by the increasing popularity of BMW i3 and Volkswagen e-Golf.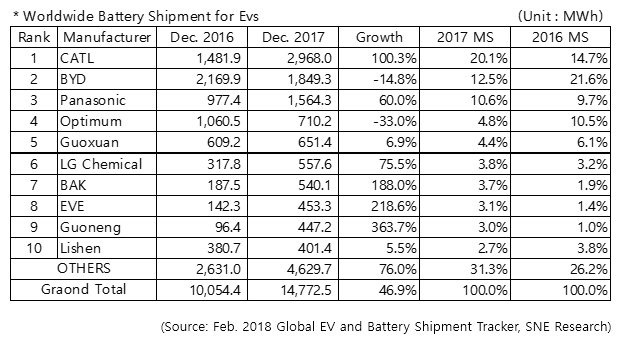 Meanwhile, global electric car battery shipments in December 2017 grew 46.9% (14.8 GWh) year-on-year.
While CATL, BYD, Panasonic, and Optimum continue to show a strong performance, taking the first four places, LG Chem and Samsung SDI ranked 6th and 12th, respectively.
On the back of surging sales of the Chinese electric vehicles, the shipments by CATL, BAK, EVE, and Guoneng, which have focused on the batteries for commercial vehicles, recorded a sharp increase. Consequently, the competition between Korean and Chinese makers seems to be heating up. This rivalry is likely to continue this year.