SNE Research predicted that this year's global LIB ESS market is expected to grow by 82% to 4.8GWh on the strength of the expansion of new renewable generation and the policy of ESS activation by country, and it is also expected to maintain a high growth rate of 72%, reaching 8.2GWh.
By region, Korea is expected to become the largest global market ahead of North America, recording 1.3GWh this year representing a record-breaking growth of 388% compared to the previous year, thanks to the ESS special rate system and new renewable energy-related REC expansion policy.
In particular, based on the ESS battery supply performance by the third quarter of this year, LG Chem was 710MWh and Samsung SDI was 695MWh which grew by 127% and 216%, respectively, compared to the preview year, and accounted for 30% and 29% of market share, respectively, while strengthening their global competitiveness.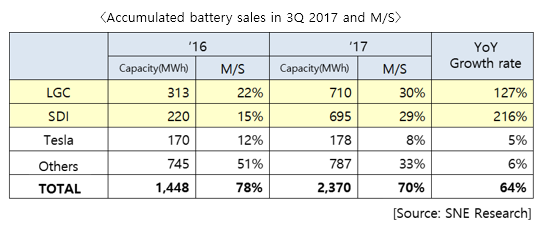 In the fourth quarter of this year, both companies are highly likely to carry orders currently under way forward to next year due to lack of raw material supply and production capacity, so that this year's performance is expected to be determined depending on how much production is maximized.
In terms of overall performance in 2017, they are expected that SDI occupies 30% of M/S with 1.5GWh, and LGC occupies 30% of M/S with 1.4GWh, meaning that the share of the both companies is predicted to exceed 60% of the world. They are figures excluding SDI's Tesla usage, and if it is taken into account, the share becomes much higher. In addition, as SK Innovation will buckle down to enter ESS market in 2018, the status of Korean companies in the ESS market is expected to further increase.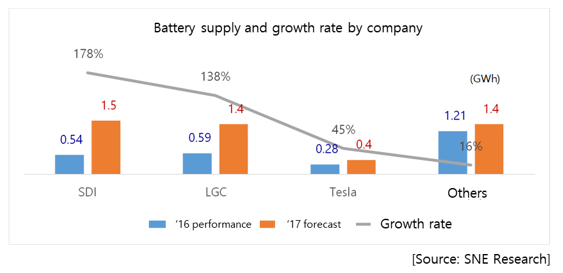 Oh Ik-hwan, Executive Managing Director of SNE Research, expected that Samsung SDI and LG Chem to sell more than 3GWh next year, which is expected to double compared to this year, and he also predicted that Korean companies will continue to achieve superiority in the ESS market until the Chinese ESS market is fully activated.