-??Exclusive DB containing monthly sales record of battery cathode material and four essential raw materials
?
-?Market analysis report and analysis tool, based on the database including more than 11,000 entries collected across 76 countries, on electric vehicle models, battery cathode materials, lithium, cobalt, Nickel, Manganese sales
Since 2017, interest in electric vehicles has been multiplying. The electric vehicle market size grew to 3.70 million units in 2017 and 4.71 million units in 2018. By region, China is leading the market taking advantage of the government's supportive policies, and European and North American markets have seen increasingly active movements.?
?
Furthermore, in response to climate change, an increasing number of countries have announced national policies to reduce carbon dioxide and fine dust generation. As part of the global efforts, major countries including the US, Europe, China, and Japan have been active in promoting fuel efficiency improvement by establishing fuel efficiency targets and measures for the companies which fail to comply with governments' policies. This global environment promises increasing and persistent demand for electric vehicles.
?
To stay ahead in this rapidly evolving industry and market, we analyze the monthly demand and supply trends of battery cathode and four major materials based on the global sales information on electric passenger vehicles and the secondary batteries which are the core components. This report provides a detailed analysis of the monthly shipments of 39 cathode material suppliers for each automaker and vehicle models, and lithium, cobalt, nickel and manganese contents in electric passenger vehicle batteries.
?
This is a report covering the cathode and four major battery material shipment trends based on the monthly electric passenger vehicle and battery shipment data collected exclusively by SNE Research.
?
?Scope
- Global electric passenger vehicles markets: 77 countries on 7 continents?
- Global electric passenger vehicle groups and automakers: 147 automobile groups and 397 electric passenger vehicle makers?
- Global battery suppliers for electric passenger vehicles: 192 secondary battery makers?
- Global cathode material suppliers: 42 suppliers?
- Electric vehicle types: BEV, PHEV, and HEV
?
Delivery Method?
- Excel pivot table report: allows various database analysis??
- Result of previous month would be collected and provided on the last day of the month.
?
?
?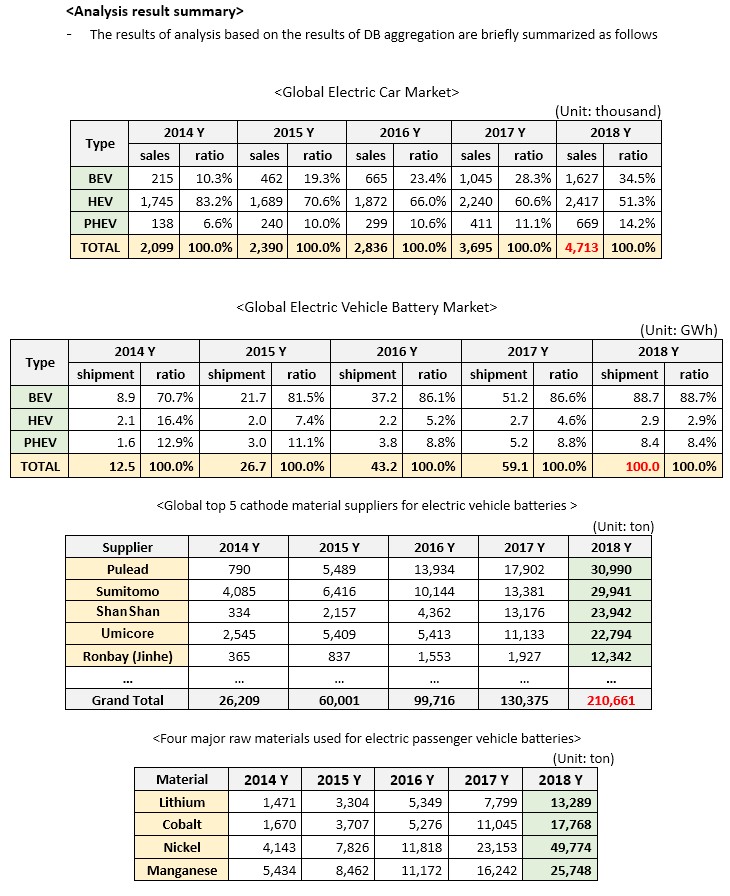 ?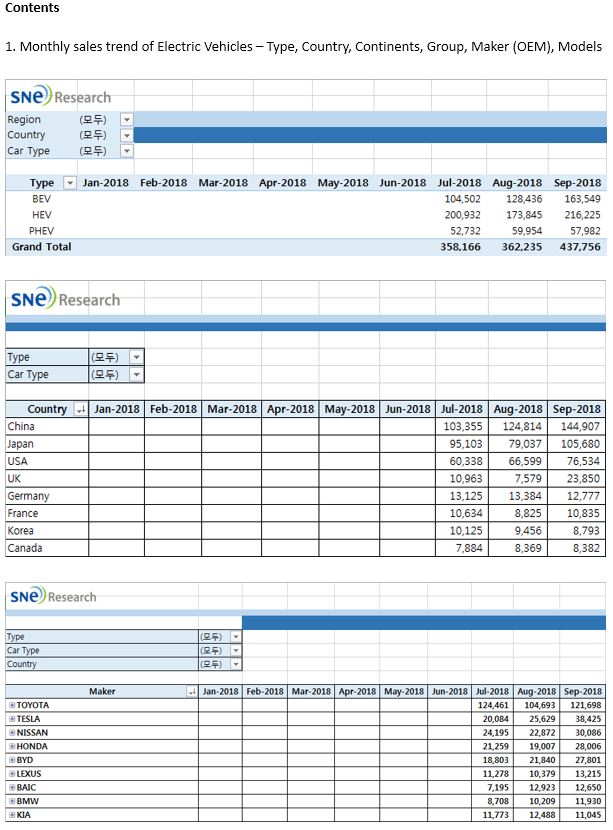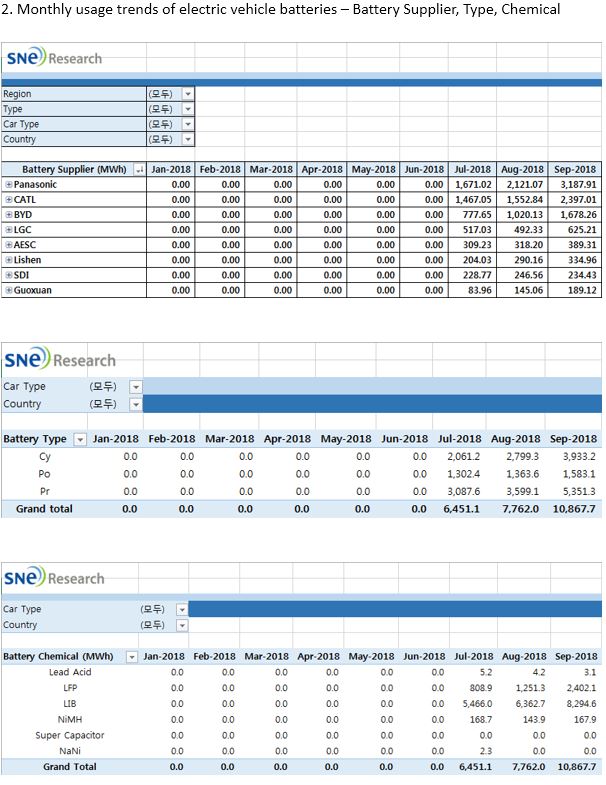 ?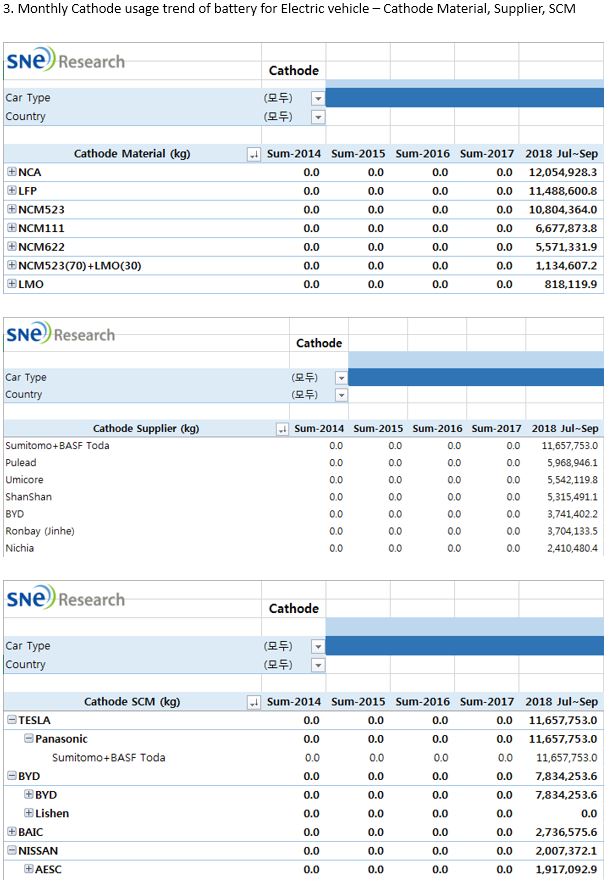 ?
?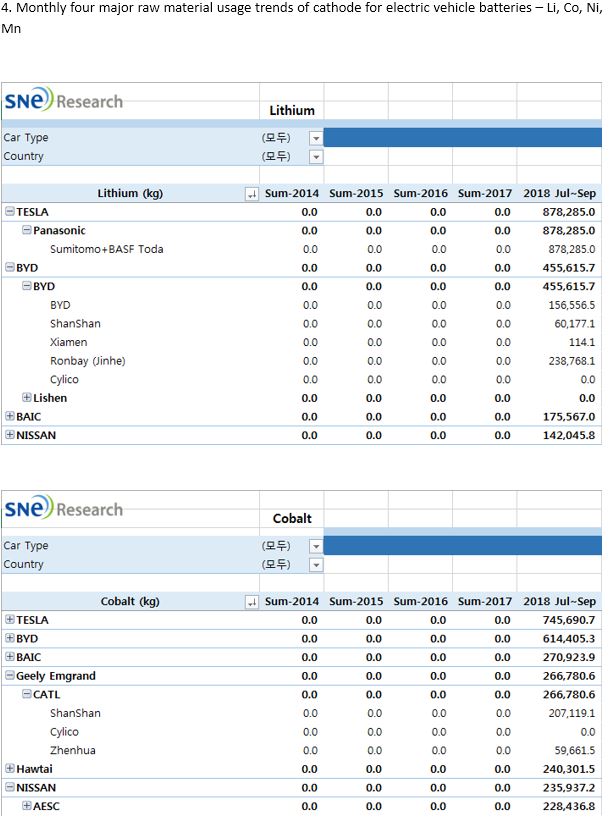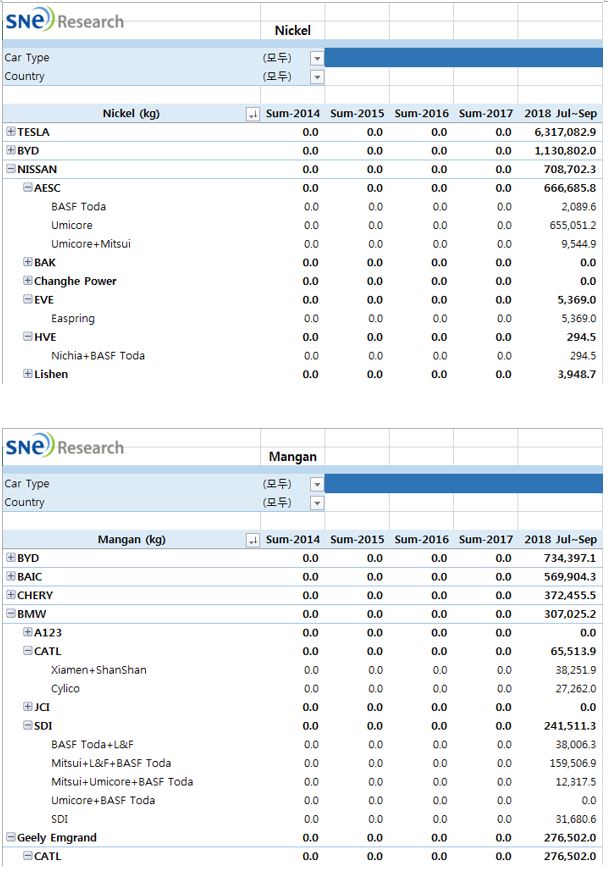 ?
?
?
?
?
?
?
?