Overview
Recent secondary battery market has seen a gradual expansion of new applications and LIB replacements as small- and medium-sized battery market become matured. For medium- and large-sized batteries, the performance in ESS and xEV will be the key to success.
This report reviews the current status of the lithium-ion secondary battery market and provides an outlook of possible mid- and long-term changes in market and leadership structure among LIB manufacturers based on supply and demand forecasts by application and type.
In chapter 1, overall mid- and long-term forecast for small-sized LIB battery, electric vehicles, ESS, and price trend of battery cell/pack are examined.
In Chapter 2, detailed survey on the current demand by application and market forecast were provided, and in Chapter 3, the LIB supply capacities of each battery maker and their production line expansion plans are described. Lastly, in Chapter 4, the supply and demand in the LIB market are forecast by analyzing the information described in the previous Chapters.
This survey and analysis on the supply and demand forecast of lithium-ion secondary batteries and mid- and long-term market prospect will offer useful information for battery manufacturers, related material suppliers, and relevant customers.
The strong points of this report include,
- At-a-glance summary of the current supply and demand status of the global small-, medium-, and large-sized LIB by application, type, device, and country
- Trends and forecasts of the cell prices for each type of devices
- Information on the production capacity of the leading LIB makers and their production line expansion plans
- Mid- and long-term supply and demand forecast (~2025) based on the shipments between 2014 and 2016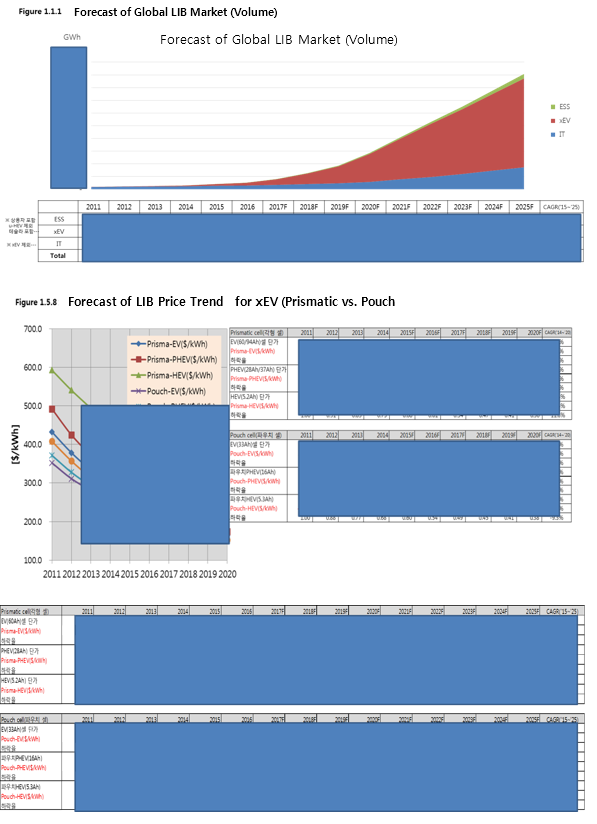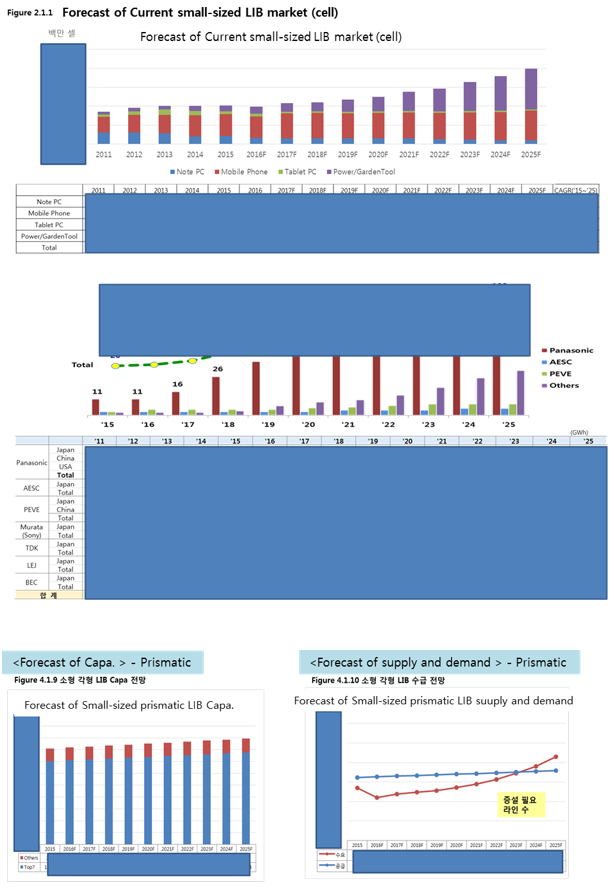 - Contents -
1. Mid- and long-term LIB market forecast by application (~2025)
1.1 Mid- and long-term global LIB market forecast (~ 2025) (capacity, sales)
1.2 Small-sized LIB market (IT, New App, LIB replacement)
1.3 Mid- and large-sized LIB market (xEV)
1.4 Mid- and large-sized LIB market (ESS)
1.5 LIB price forecast (IT, xEV, ESS)
2. Current LIB demand and forecast (~2025)
2.1 Small-sized LIB market
Current markets (IT, power tools)
Mobile Phone
Tablet
Note PC
Power Tool / Garden Tool
New Application Market
Wearable Device
Smart Watch
Power Bank
E-Bike
xEV (Tesla)
Etc. (Dron, Next Gen.)
By battery maker
2.2 Mid- and large-sized LIB market - Electric vehicles
Electric vehicles
By type/country/auto maker/vehicle model
Batteries for electric vehicles
By type/country/battery maker
2.3 Mid- and large-sized LIB market - ESS
By usage
For household/commercial/power/UPS
By country
By battery maker
3. Current LIB supply and forecast (~2025)
3.1 Current production bases of major LIB makers
Samsung SDI production base/production capacity
LG Chem production base/production capacity
SK Innovation production base/production capacity
Panasonic production base/production capacity
Sony production base/production capacity
ATL production base/production capacity
Lishen production base/production capacity
BYD production base/production capacity
3.2 Small-sized LIB market
Production capacities of major battery makers (cylindrical)
Production capacities of major battery makers (Prismatic)
Production capacities of major battery makers (Polymer)
Forecasts for Korean/Chinese/Japanese makers
3.3 Mid- and large-sized LIB market
Production capacity of major battery makers
Forecast for Korean/Chinese/Japanese battery makers
4. LIB supply and demand forecast (~2025)
4.1 Small-sized LIB market
Supply and demand forecast (cylindrical)
Supply and demand forecast (Prismatic)
Supply and demand forecast (Polymer)
4.2 Mid- and large-sized LIB supply and demand forecast
Supply and demand forecast (cylindrical)
Supply and demand forecast (Prismatic)
Supply and demand forecast (Polymer)
5. Summary and Implications
5.1 Summary
5.2 Implications
Appendix
Value chains of major LIB makers