Lithium ion rechargeable batteries refer to a type of rechargeable battery using lithium ions as a medium. Due to higher capacity than existing lead acid, Ni-Cd , and Ni-MH batteries, Li-ion batteries are one of the most popular battery type on the market. Li-ion batteries are now very common in many applications including power tools as well as portable electronics such as laptops, tablets and smart phones. In addition, the growing electric vehicle market gives an additional impetus of the Li-ion rechargeable battery market.
The price of lithium carbonate had remained around $5-$7 for several years but began to surge from 4Q 2016 and hit $23 as of May, 2016. This is because raw materials supply cannot meet demand for the fast-growing Li-ion rechargeable battery market. Considering the Li-ion battery market is poised for further growth, demand will continues to spike.
Although there are many projects underway in lithium carbonate reserves across the world, it is not easy to increase the production within a short period of time, because it takes several years from exploration, to mining to production. Furthermore, each lithium reserve has different lithium content, production conditions and climatic conditions and it is hard to find new plants more profitable than the existing ones. For this reason, there is no practical solution for the current tight supply condition. In this context, EV manufacturers as well as rechargeable battery suppliers are endeavoring to secure a stable supply of raw materials.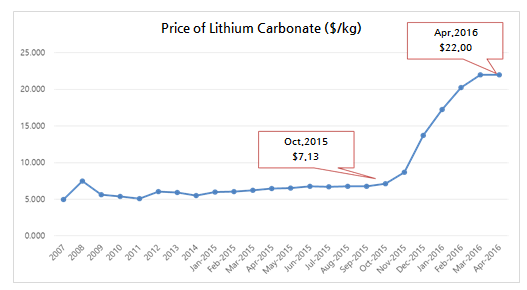 Now that four companies control the majority of the world's lithium supply, there is a high barrier to entry in this market.
Most of all, Rockwood Lithium controlled by ALBEMARLE produces lithium with SQM at the Salar de Atacama and holds a 49% stake in Talison Lithium Ltd. Thus, when it comes to production, the company ranks No. 1.
SQM has continued stable mining operations, backed by mining concessions on the world's largest lithium carbonate plant Salar de Atacame and strong relationship with the Chilean government. The company's lithium carbonate production, however, slightly declined due to the strike that occurred in 2014 and the decreasing price of Potash(potassium hydroxide). FMC maintains stable and good operations with a market share of 10% as of 2015. China's make a meteoric rise by acquiring Australia-based TALISON and dominates the Chinese lithium carbonate market.

This report analyzes the lithium carbonate market structure and main factors affecting the price and provides forecasts of future lithium carbonate supply/demand based on the current lithium carbonate supply and projected lithium demand.
In addition, the report provides an overview of various efforts made by lithium ion rechargeable battery suppliers and EV makers to secure a stable supply of lithium carbonate such as equity investment or joint development projects.
[ Strong Points of this Report ]
1. Analysis of lithium reserves and production
2. Analysis of lithium for rechargeable batteries demand
3. Projected lithium carbonate supply capacity and supply/demand
4. Main factors affecting lithium carbonate prices and projected prices
5. Company-specific trend in lithium carbonate supplies
6. Analysis of major lithium carbonate suppliers