This report was written on the basis of the research material on monthly electric vehicle sales results in 52 countries in 2014 and 2015. Also, we researched specifications and capacities of secondary batteries applied to electric vehicles and analyzed the battery demand volume by type, form, vehicle type, company, and country.
[Extracts from the Report]
2. Electric Vehicle Sales Results and Market Forecast
In 2015 number of electric vehicles sold was approximately 2.2 million and grew 7.7% year on year. Sales of HEV decreased 4.1% from 1.73 million to 1.66 million year on year and sales of EV and PHEV grew more than 60%. It looks like the trend of HEV sales decrease will continue since sales decrease is standing out in Japan and the United States. In contrast, sales of PHEV are increasing rapidly in China and Europe. In Japan, all types of electric vehicles decreased in sales in 2015 compared to 2014.
Among the electric vehicle markets, the EV market is predicted to grow from 2012 and show exponential growth from 2019, exceeding the sales of HEV.
The PHEV market was understood as a market between HEV and EV, but the actual market is predicted to be move towards the EV market from a market of both EV and PHEV.

3. Sales Status of Electric Vehicle in 2015
3.1.3 China
Among different types of electric vehicles HEV showed low number of sales in 2015, but sales of EV and PHEV increased 3 times and 5 times year on year respectively. (Subsidy policy of the Chinese government)
- Sales of EV, PHEV, and HEV in 2015 (2014 - EV ??,???, PHEV ??,???, HEV ?,???)
[Sales Status of China Electric Vehicles (2014~2015)]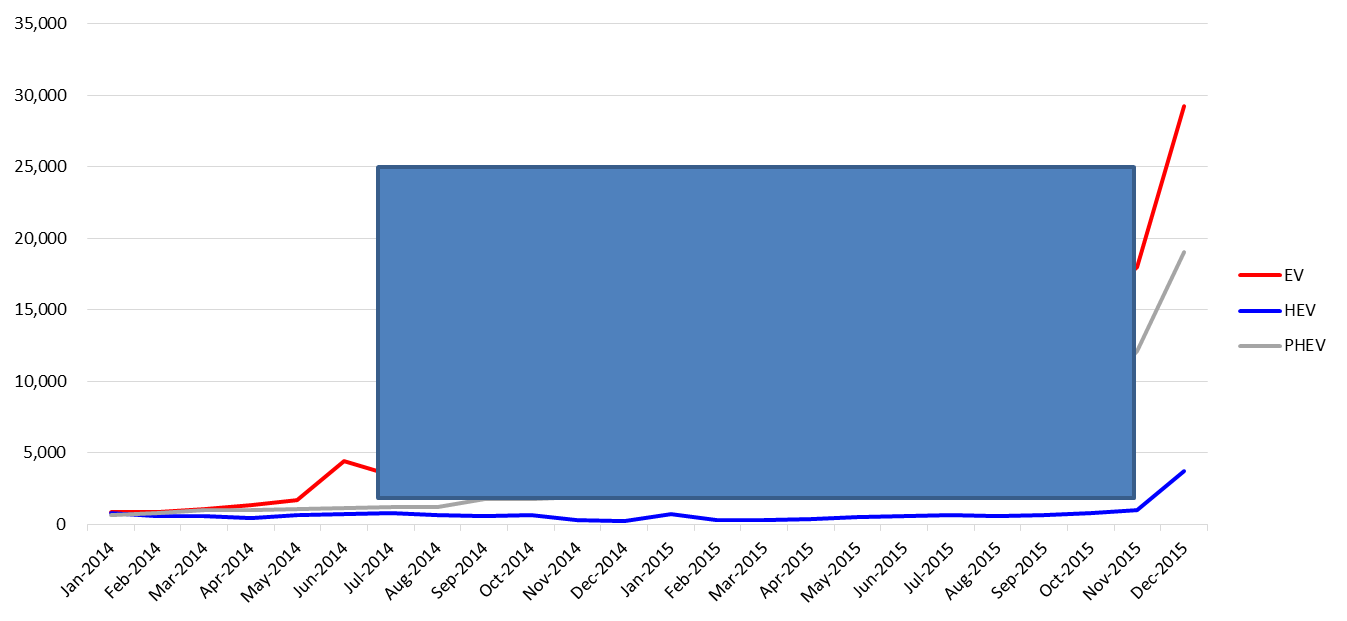 4. Demand Status of Secondary Batteries for Electric Vehicles
4.3 Secondary Battery Demand per Type
Most electric vehicles used prismatic type secondary batteries, but since they were mostly applied to HEV, battery demand is ?,???.?MWh (46.4%).
In 2015 prismatic type took up ?2.1% and polymer type took up ?1.5%.
[Sales of Electric Vehicles per Battery Type and Battery Demand in 2015]

4.4 Secondary Battery Demand per Battery Chemicals
In terms of sales of vehicles lithium ion battery is 41.9% and nickel hydride battery is 52.0%, but in terms of battery demand lithium ion battery is 73.4%. This is because nickel hydride batteries are mainly used for low capacity hybrid vehicles.
[Sales of Electric Vehicles per Battery Chemicals and Battery Demand in 2015]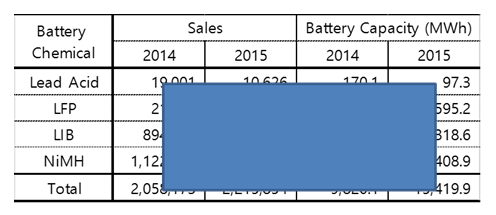 4.8 Demand per Country
Japan had more demand than Korea and China, but it is decreasing from ??.7% in 2014 to ??.7%.
In contrary, demand in China is increasing from ?.7% in 2014 to ??.2% in 2015.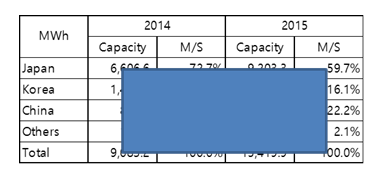 [Contents]
1. Basic
1.1 History of Electric Vehicles
1.2 New era of Electric Vehicles
1.3 Types of Electric Vehicles
2. Sales and Market Forecast of Electric Vehicles
2.1 Sales status and Market Share of Global Electric Vehicles in 2015
2.2 Market status and Forecast of Global Electric Vehicles (2012 ~2020)
3. Sales Status of Electric Vehicle in 2015
3.1 Sales Status of Electric Vehicle by country
3.2 Sales Status of Electric Vehicle by continents
3.3 Sales Status of Electric Vehicle by types (Top 10 country)
3.4 Top 10 World Electric Vehicle Maker
3.5 Top 10 World Electric Vehicle Model
4. Sales Status of Secondary Battery for EV
4.1 Sales Status and Market Share of Secondary Battery for EV
4.2 Sales Status of Secondary Battery by EV Types
4.3 Sales Status of Secondary Battery by Battery Shape
4.4 Sales Status of Secondary Battery by Battery Types
4.5 Sales Status of Secondary Battery by EV Types and Battery Shape
4.6 Sales Status of Secondary Battery by Battery Types and Battery Shape
4.7 Sales Status of Secondary Battery by Supplier
4.8 Sales Status of Secondary Battery by Country