After accumulating the numbers of small-sized batteries shipped all around the world during
the first to third quarters of 2015, Samsung SDI ranked the first place with 849.5 million cells,
followed by Panasonic with 648 million cells. LG Chem came at third place with 747.5 million cells.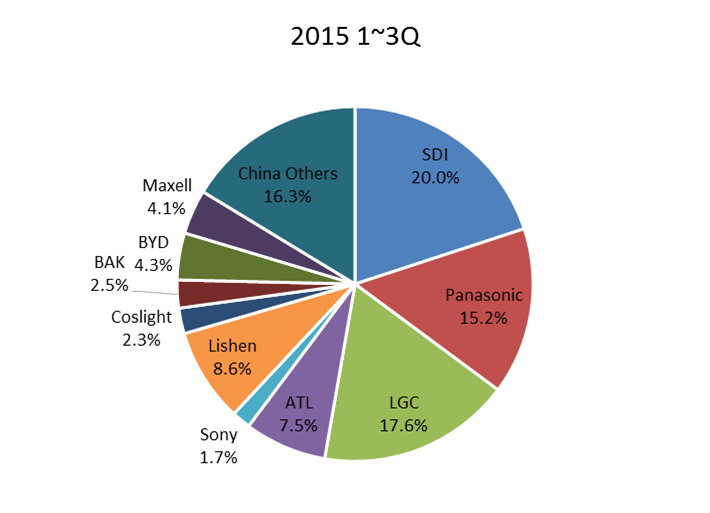 *Total Shipments of Small-sized Battery from 5 Major Suppliers, First-half of 2015 (Million Cells)




Regarding the quarterly shipments from the suppliers, the number of batteries shipped during
the third quarter of 2015 increased compared to that of the second quarter.
The ranking of Panasonic is falling after the company took the first place during the first quarter of 2015,
and it is maintaining the second position only by a slight difference from LG Chem.
The 2015 shipment level of ATL is on a rapid increase, and at this rate, it seems like the company
will be able to compete with the top 3 suppliers in 2016.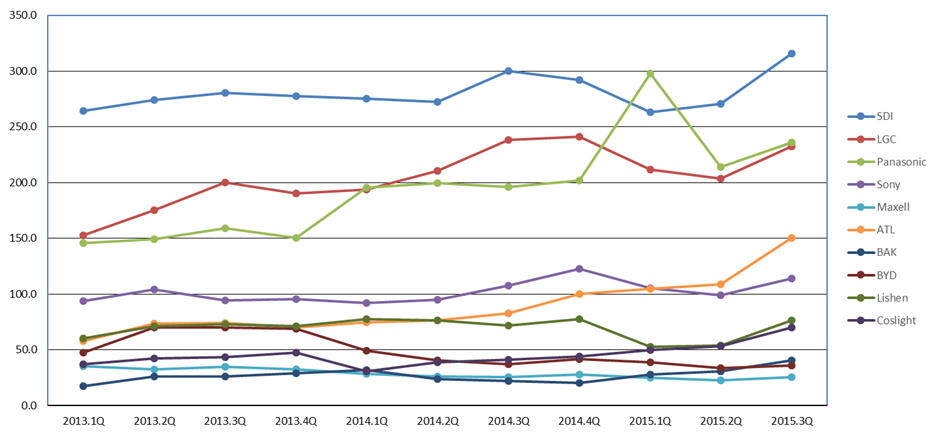 On market share based on the small-sized battery type, pouch-type took 38% of the market share
in the first quarter while cylindrical-type took 37.5% and prismatic-type took 24.5%. In the second quarter,
pouch-type took 41.5%, cylindrical-type 35.9% and prismatic-type 22.6% respectively. In the third quarter,
the numbers accumulated at 38.6% for pouch-type, 38.7% for cylindrical-type and 22.8% for prismatic-type.
Looking at the trends of the third quarter, the margin of increase for the cylindrical-type was so big that
the market share turned out to be similar to that of pouch-type, and it is analyzed that such increase is
due to the grow in demand of batteries used in power tools and e-bike. Also, the number is expected to
further increase, resulting from such demand.

*Shipments of Small-sized Battery, by Type (2014.1Q~2015.3Q, Million cells)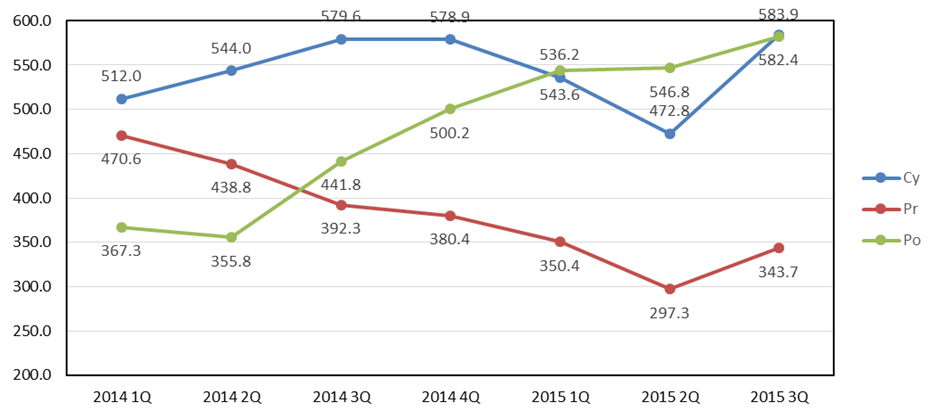 In the case of cylindrical batteries in the third quarter, there has been a reduction in demand for batteries
used in lap-top. However, as the demand for batteries used in power tools and e-bike is increasing,
the total number of batteries supplied has experienced a substantial increase compared to the previous quarter. .
The prismatic battery was mainly used in mobile phones (74.6%), but as pouch-type battery was adopted
to be utilized in smartphones, the demand for prismatic battery is on a constant decrease.
Yet, the demand for prismatic battery to be used in laptops and e-bike is growing.
Currently, the pouch-type battery is mainly being used in mobile phones (55.9%), and the demand for
those to be used in laptop and tablet is constantly increasing. Yet, the demand for pouch-type battery
used in power bank is decreasing.

This report analyzes the shipments of small-sized lithium-ion secondary battery through categorizing
the numbers by suppliers, applications, customer, and type. Based on such analysis, it is possible to
apprehend the existing market as well as forecast the future market.

[Characteristics of this report]
1. Market forecast by applicable products & demand forecast of small-sized lithium-ion secondary battery
2. Analysis on shipment of small-sized lithium-ion secondary battery by suppliers
3. Analysis on shipment of small-sized lithium-ion secondary battery by application
4. Analysis on shipment of small-sized lithium-ion secondary battery by customer
5. Analysis on shipment of small-sized lithium-ion secondary battery by type