Tesla¡¯s premium sports electric vehicle ¡®Model S¡¯ has recorded sales that surpassed those of premium sedans
and growth possibilities of the electric vehicle market is increasing while the global green vehicles market
is showing incremental growth. Regionally, the Japanese green vehicles market is holding the title of
the biggest in the world and markets are mostly formed around developed countries in North America and Europe.
Also, Chinese green vehicles are showing rapid growth in the global market.

Meanwhile, developed countries are announcing policies that will deal with climate changes by decreasing CO2
emissions and accordingly countries and areas such as the U.S, E.U, and Japan have planned to implement
sanctions for non-compliance by the second half of 2015.

The global automobile market is expected to show rapid changes. This report intends to monthly analyze detailed
sales figures of electric vehicles that are sold all over the world, and purchasing trends of secondary batteries
which are core parts of electric vehicles. Supply of battery types and capacities of the 19 battery producers of
electric vehicles can be identified monthly by vehicle producer and model.

This report shows sales trends of electric vehicles by month, type, continent/country, vehicle producer/model
and purchasing trend of secondary batteries, which makes quick and accurate analysis of supply of electric vehicles
and batteries possible with monthly report of the previous month by Excel pivot tables provided on the 20th of each month.



Scope of Research
- Global electric vehicles markets: 51 countries in 7 continents
- Global electric vehicles producers: 21 automobile groups and 56 electric vehicles companies
- Suppliers of batteries for global electric vehicles: 19 secondary battery producers



Mode of delivery
- Excel pivot table reports: possibilities of various databases analysis
- Results of the previous month delivered on the 20th of the next month
1. Sales figures of electric vehicles by type

2. Sales figures of electric vehicles by country
; Monthly data collection of 51 countries in total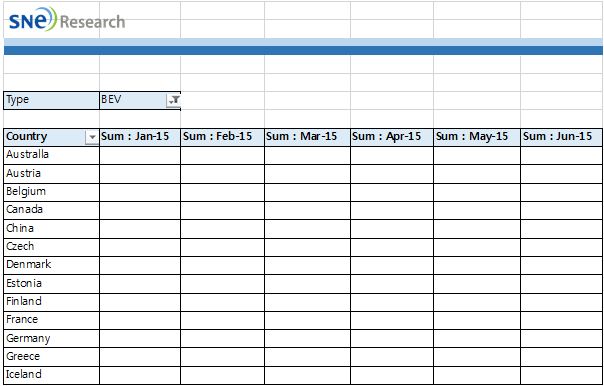 3. Sales figures of electric vehicles by continent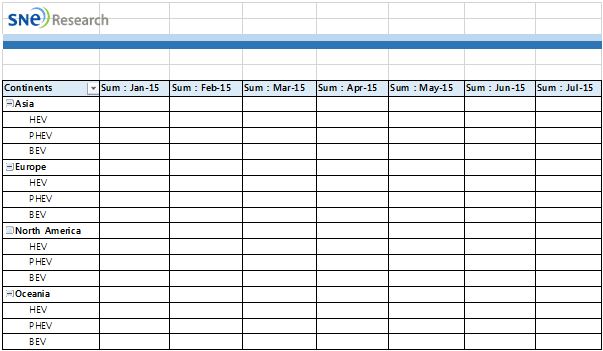 4. Sales figures of electric vehicles by group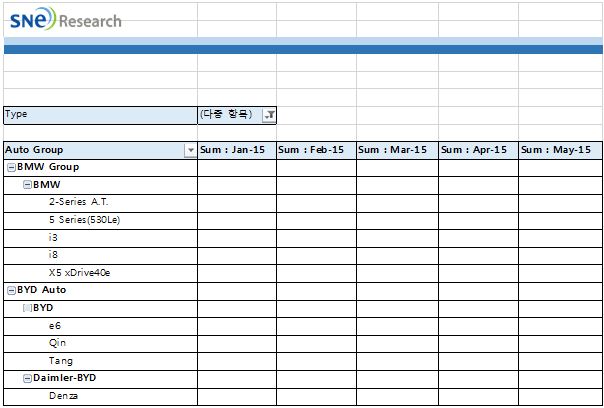 5. Sales figures of electric vehicles by model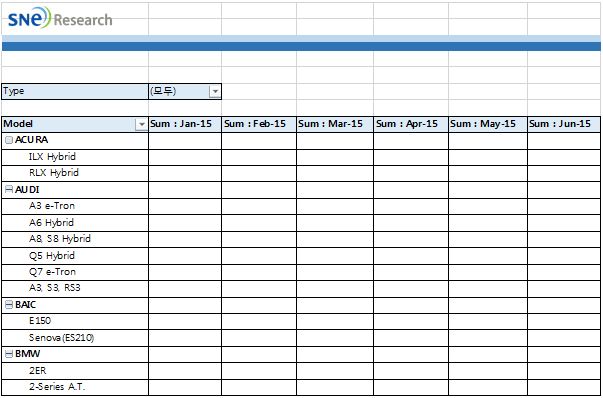 6. Sales figures of batteries for electric vehicles by supplier