China is a manufacturing site that takes around 80% of the entire global lithium-ion battery production,
leading the development of small-sized batteries for global IT companies as well as large-sized battery
used in electric vehicles. The total number of lithium-ion battery manufacturers with annual sale over
200 million RMB is recorded to 30 in China, and as there are many other lithium secondary battery
related industries such as packaging company, materials company and installation companies,
the industry is viewed to be very strong.

The Chinese secondary battery industry forms around lead storage battery and lithium-ion battery.
The lead storage battery industry has shown a growth rate of 9.6% compared to last year, producing
204 million KVAh in 2014 and accomplishing sales record of 129 trillion RMB while industry on
lithium-ion battery grew by 21.2% compared to the previous year, with sales record of 3.6 billion units,
71.5 trillion RMB. Other batteries including nickel battery are on their decline.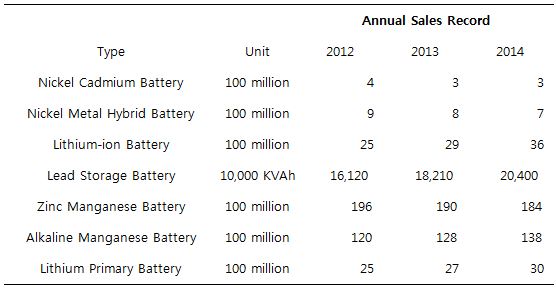 The total sales record of lithium-ion battery produced in China, 2014 reached 71.5 trillion RMB,
which is a 21% increase compared to the previous year and on a continuous rise. Even though
the market of small-sized took 81.1% of the total share, the growth rate is slow while power cell
used in electric vehicles had shown 200% of rapid growth. Battery used in ESS take around 2.1% of the share.

This report forecasts that the lithium-ion battery industry of China will continue its growth,
and the increase in new energy vehicles disseminated by the Chinese government, ESS used in
power-source interrelated with solar energy, ESS used in communication following the establishment
of high speed broadband network, and lithium-ion battery replacing lead storage battery due to regulations
were all elements to the development expectations.

ATL took the lead in total sales record by company in 2014, and when the sales of CATL,
its subsidiary companies, is taken into consideration, the number reaches 29.3% of total sales record
of top 20 lithium-ion battery manufacturers. BYD took the second place and Lishen the third place.
BYD especially showed a high growth, around 28% compared to that in 2013, in the field of electric vehicle
battery due to the development of battery on electric vehicle. Coslight also showed 11% growth.


Comparison of Sales Record of Top 20 Lithium-ion Secondary Battery Manufacturers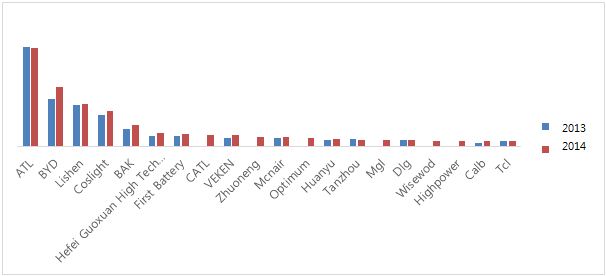 (Source: SNE Research, "Report on Chinese Secondary Battery Industry", in 10,000 RMB)


This report lists manufacturers, packaging firms, 4 key material (cathode, anode, electrolyte and separator)
companies and installation firms of China on lithium-ion secondary battery with their sales record as
the standard and compares annual growth rate. Also, the sales record of lead-storage battery manufacturer
as well as producers of lead-storage battery, nickel battery, zinc-manganese battery and alkaline manganese
battery are listed and compared. Also, the report analyzes the rationales behind the opportunity for
Chinese battery industry to grow and the possible problems that the industry faces, as well as its strategies.
It is possible to comprehend the Chinese battery industry further through this report.


[Features of this report]
1. Opportunity Factor Analysis of Chinese Battery Industry
2. Sales Record Analysis of Chinese Battery Industry (2012, 2013, 2014)
3. Current State Analysis of Chinese Lithium-ion Secondary Battery
4. Analysis of Sales and Growth Rate of Top ranking Companies, based on Sales Record of 2014
. Analysis of Top Ranking Chinese Companies on Lithium-ion Secondary Battery
. Analysis of Top Ranking Chinese Companies on Lithium-ion Secondary Battery used in Electric Vehicles
. Sales Record of Top Ranking Chinese Packaging Companies
. Sales Record of Top Ranking Chinese 4 Materials (Cathode, Anode, Electrolyte, Separator) Companies
. Sales Record of Top Ranking Chinese Installation Companies
. Sales Record of Top Ranking Chinese Lead-Storage Battery Companies
. Sales Record of Top Ranking Chinese Nickel Battery Companies
. Sales Record of Lithium Primary Battery Companies
. Sales Record of Zinc-Manganese Battery Companies