Recently as medium-sized IT battery market, among global secondary battery market has entered
its maturity phase, market on new application and LIB subsitution is gradually expanding.
Also, it is prospected that medium-to-large sized battery will be the key to success in ESS
and xEV markets which are growing at an exponential speed.

This report examines the market status of lithium-ion secondary battery and includes contents
on that observes the market structure of LIB enterprises and prospected change in the market
through supply and demand prediction and mid-to-long term forecast by application and by type.

The first chapter deals with medium-to-long term market forecast of small-sized, electric vehicle
and ESS as well as price prediction of cell/pack;
The second chapter includes contents on detailed demand of LIB by application and its forecast;
The third chapter deals with LIB supply capa status and prospect;
The fourth chapter predicts the demand and supply of LIB market through forecasts made in
the second and third chapter, categorizecd by application and type.

It is hoped that the analysis on supply and demand prospect as well as medium-to-long term market forecast
on lithium-ion secondary battery provided by SNE Research prove to be useful to battery manufacturers
and related-material enterprises as well as the customers supplied with secondary battery.


Strong Points of this Report

- Possible to grasp global supply and demand of small/medium-to-large sized
LIB by application, by type, by model and by country.

- Predicted price trend of cell and pack by model

- Possible to apprehend infromation on production capa of leading
LIB manufacturers and their production line establishment plans.

- Predicted supply and demand until 2020 based on LIB performance of 2014.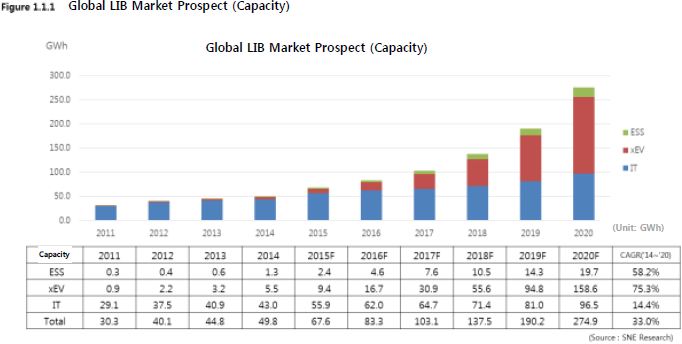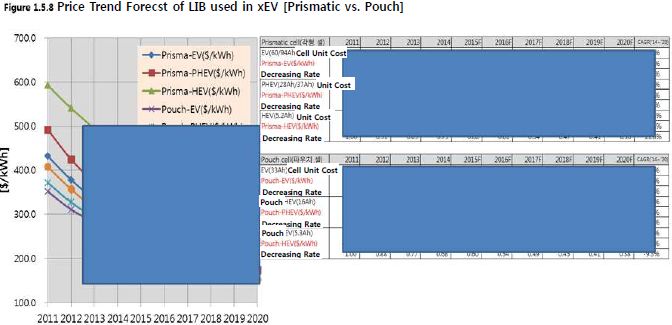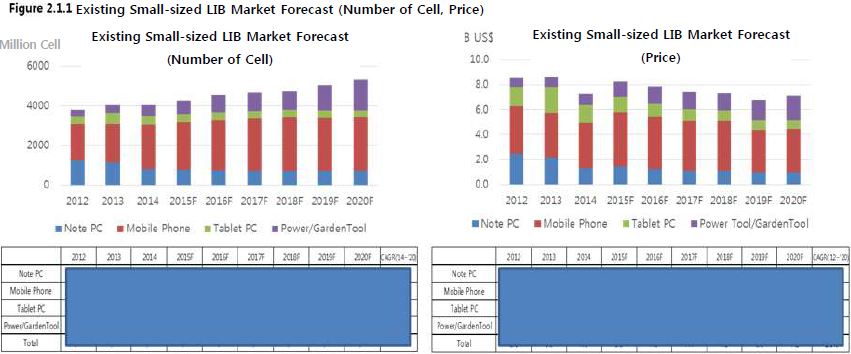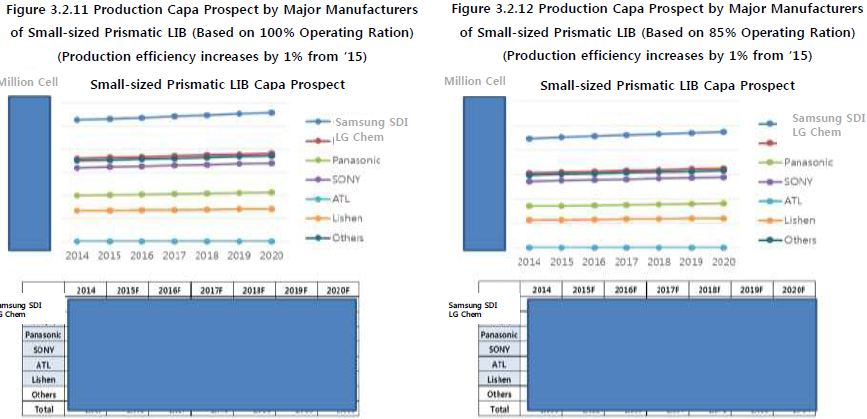 -Contents-
1. Medium-to-Long Term LIB Market Prospect by Application
1.1 Global Medium-to-Long Term LIB Market Prosepct (~2020) (Capacity, Price)
1.2 Small-sized Market (IT, New App, LIB subsitute)
1.3 Medium-to-Large-sized Market (xEV)
1.4 Medium-to-Large-sized Market (ESS)
1.5 LIB Price Prospect (IT , xEV, ESS)


2. LIB Demand Status and Forecast (~2020)
2.1 Small-sized LIB Market
Existing Market (IT, Electrically driven tool)
Mobile Phone,
Tablet,
Note PC,
Power Tool / Garden Tool
New Application Market,
Wearable Device,
Smart Watch,
Power Bank,
E-Bike,
xEV (Tesla)
By Battery Manufacturer
2.2 Medium-to-Large-sized LIB Market-Electric Vehicle
Electric Vehicle
By Type/ By Country/ By Vehicle Manufacturer/ By Vehicle Model
Battery used in Electric Vehicle
By Type/ By Country/ By Battery Manufacturer
2.3 Medium-to-Large-sized LIB Market-ESS
By Use
Household/Industry/Power/UPS
By Country
By Battery Manufacturer


3. LIB Supply Status & Prospect (~2020)
3.1 Production Base Status of Major LIB Manufacturers
Samsung SDI Production Base / Production Capa
LG Chem Production Base / Production Capa
SK Innovation Production Base / Production Capa
Panasonic Production Base / Production Capa
Sony Production Base / Production Capa
ATL Production Base / Production Capa
Lishen Production Base / Production Capa
BYD Production Base / Production Capa
3.2 Small-sized LIB Market
Production Capa by Major Enterprises (Cylindrical)
Production Capa by Major Enterprises (Prismatic)
Production Capa by Major Enterprises Capa (Polymer)
3.3 Medium to Large-sized LIB Market
Production Capa by Major Enterprises


4. LIB Supply and Demand Prospect (~2020)
4.1 Small-sized LIB Market
Supply and Demand Prospect (Cylindrical)
Supply and Demand Prospect (Prismatic)
Supply and Demand Prospect (Polymer)
4.2 Supply and Demand Prospect of Medium-to-Large sized LIB Market
5. Summary & Implications
5.1 Summary
5.2 Implications
Appendix
Value Chain of Key LIB Enterprises