After gathering all shipments of small-sized batteries during the first half of this year,
Panasonic of Japan ranked the first place with 576.2 million cells,
and Samsung SDI of Korea followed with 534 million cells.
LG Chem took the third place with 416.6 million cells.
This is due to the increased supply of cylindrical-type cell to TESLA.
The batteries used in mobile phones and lap top computers are changing to pouch polymer batteries.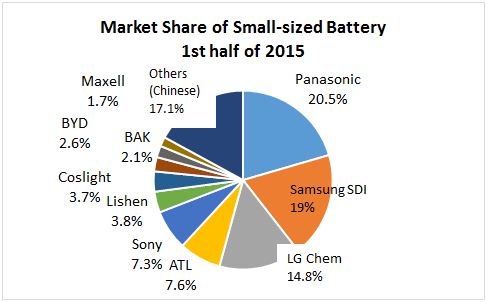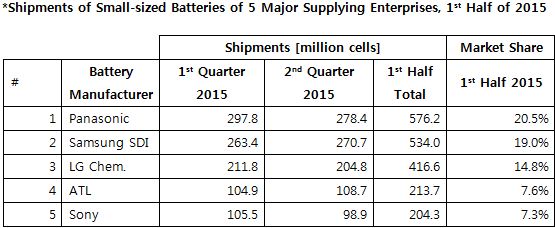 When looking at level of shipments from suppliers by quarters show that in the first quarter of 2015,
Panasonic took the first place. This is interpreted as the result of increased supply to TESLA.
Samsung SDI and LG Chem of Korea took second and third place respectively,
while ATL of China took the fourth place with a small gap from Sony, which took fifth place.




In the case of small-sized market share by type, existing pouch batteries took 38%
of the first quarter market share while cylindrical type and pouch type took 37.5%
and 24.5% respectively. In the second quarter, the existing pouch batteries took 40.2%
of the market share while cylindrical and pouch batteries took 37.4% and 22.4% respectively.
Thus, pouch batteries being used in iPhone 6 of Apple and Galaxy S6 of Samsung became
the general trend, and since it is also being used in slim lap top computers, such trend is expected to continue.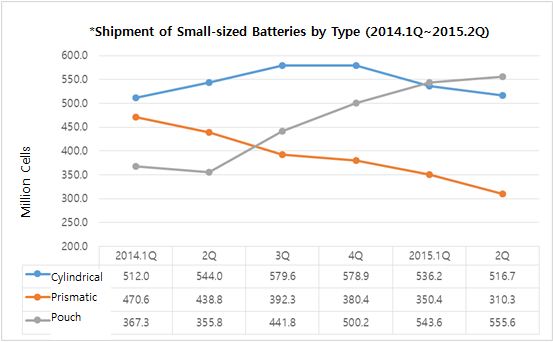 The demand of cylindrical battery used in electric vehicles increased,
while those used in lap-top computers decreased as it was replaced by pouch batteries.
Last year, power bank batteries that mainly used cylindrical batteries started to apply pouch-type;
therefore, the overall shipment of cylindrical battery decreased.
Prismatic battery was used mainly for mobile phones, but as pouch battery is used more widely
in smartphones, the demand for prismatic battery is decreasing continuously.
This report analyzed the shipments of small-sized lithium-ion secondary battery
by supplying manufacturers, application, customers and type.
On the basis of such analysis, it is possible to apprehend the market status as well as its prospects.
[Features of the Report]

1. Market prospect by application products & demand forecasts of small-sized lithium-ion secondary battery
2. Shipment analysis of small-sized lithium-ion secondary battery by supplying manufacturer
3. Shipment analysis of small-sized lithium-ion secondary battery by application
4. Shipment analysis of small-sized lithium-ion secondary battery by customer
5. Shipment analysis of small-sized lithium-ion secondary battery by type

- Contents -

1. Market Trend of Small-sized Lithium-ion Secondary Battery, 1st Half of 2015
- Quarterly Shipments of Small-sized Lithium-ion Secondary Battery,
Market Share of Small-sized Secondary Battery Supply Trend of Small cell used in xEV,
Supply Trend by Type, Expansion of Polymer Battery Application Decrease
in Supply of Battery used in Tablet, Supply of Small-sized Lithium-ion Battery
by Country during the 1st half of 2015

2. Market Trend and Prospect by Application
- Notebook, Phone, Tablet, Power Tool, xEV, E Bike, Power Bank
Secondary Battery Trend by Application

3. Market Trend and Prospect by Type
- Overall, Cylindrical cell, Prismatic cell, Polymer cell, Sales Trend by Types of Enterprises

4. Market Trend and Prospect by Battery Enterprise
- Overall, SDI, LGC, Panasonic, Sony, Maxwell, ATL, BAK, BYD, Lishen, Coslight
Trend by Secondary Battery Enterprise

5. Market Trend and Prospect by Customer
- Apple, Samsung, Xiaomi, HP, Dell, Acer, Lenovo, Nokia, Huawei
Asus, LGE, TTI, B&D