[2015] LIB Patent Analysis (Leading 4 Companies Status and Strategy)
Recently as environment-friendly policies and regulations on greenhouse gases become realized by each governments, the market of electric vehicles is starting to speed up its growth. Also, in order to materialize smart grid which represents the electrical grid of the 21st century, there is rising interest on energy storage technology that can play the role of a buffer between the supply and demand of electricity. Following this, the demand of lithium secondary battery that can be used as medium to large size secondary batter for electric vehicles and energy storage system is increasing. Therefore, the study on the stability and securing high capacity of lithium secondary battery is crucial, as it is applied to electric vehicles and medium to large sized energy storage system.
This report looks at the trend of patent on lithium secondary battery of 4 leading companies of it, SAMSUNG SDI, LG CHEM, PANASONIC and SONY, and aims to provide insights on directions of the research, policies and business of related industry.
The research period of patents used in this report is those that are made public and registered until April 2015. The subject of the research is United States, PCT patents, and the report is written based on approximately 15,000 cases of patent on lithium secondary battery.
Furthermore, this report selects approximately 6,700 valid patents out of approximately 15,000 number of total patent and carries out various quantitative analysis. Especially, it examines industry/year application trend, concentrated field per industry, application trend by technology, technology/year trend, applicant trend by technology, occupied technology status by application sector, change in major applicant per sector, inventor trend of multiple applications by technology, comparison of patent source index, patent transfer trend, and the key patent list by industry.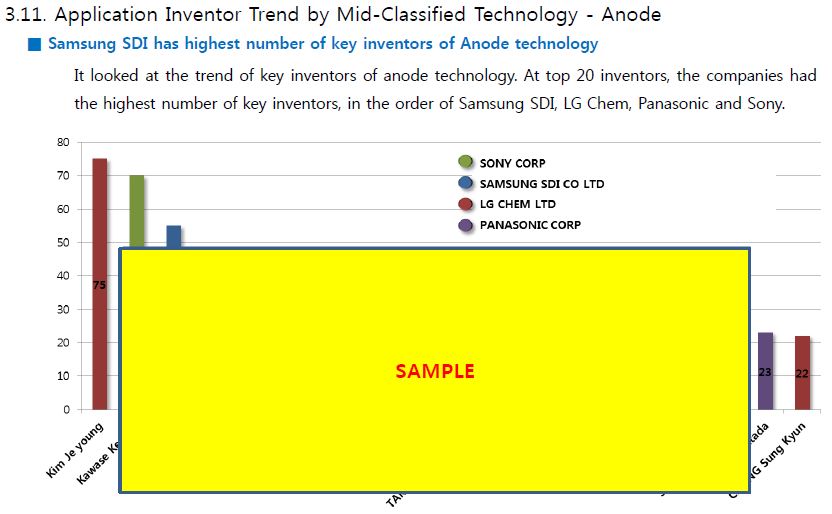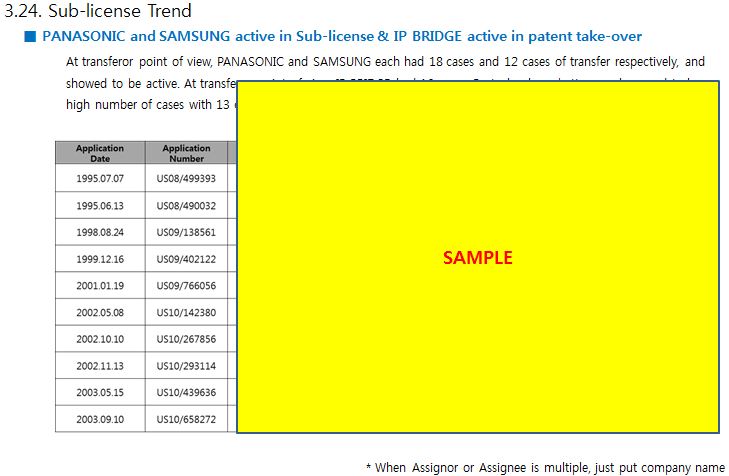 Also, this report takes into consideration the patent index of selected 6,700 cases of valid patent, and extracted the 113 cases of U.S. key patents. It then established key patent distribution status by industry, key patent distribution status by year, year/industry key patent distribution status, key patent distribution status by technology, invent trend of multiple applications of key patent, list of key patent by industry, technology development plan, and the summary of the key patents.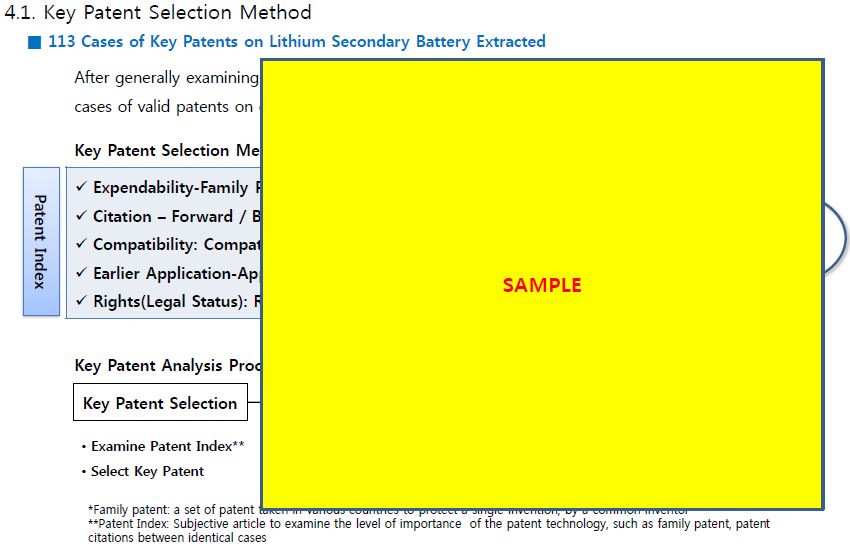 By providing insights into lithium secondary battery with diverse perspective on quantitative and quantitative analysis, it is expected that this report will assist with R&D, policy making of the government and the research done at universities.
In order to examine the topic, the report is constructed in 260 pages of which has the following content.
1. Patent Analysis Outline
2. Technology Outline
3. Trend Analysis of Patent Application
4. Key Patent of Lithium Secondary Battery Analysis Outline
5. Key Patent of Battery pack Technology Analysis
6. Key Patent of BMS Technology Analysis
7. Key Patent of Anode Technology Analysis
8. Key Patent of Cathode Technology Analysis
9. Key Patent of Electrolyte Technology Analysis
10. Key Patent of Separator Technology Analysis
11. Key Patent of Lithium-Ion Battery Technology Analysis
12. Key Patent of Lithium Metal Battery Technology Analysis
13. Key Patent of Lithium Polymer Battery Technology Analysis
14. Key Patent of Lithium Air Battery Technology Analysis
15. Conclusion and Implications