(2015 edition) EV Charging System Patent Landscaping Analysis
As many governments hit their stride in environmentally friendly policies and regulations on greenhouse emissions, the electric vehicle market continues to grow rapidly. Accordingly, extra attention is focused on EV charging technologies and infrastructure accessible anywhere and at any time. Currently, various charging systems are being developed as part of government-backed programs in many developed countries. When these charging infrastructure and technologies begin to be deployed at commercial scale, many positive effects such as enhanced convenience and cost savings will lead to rapid growth in electric vehicle penetration.
With the rosy outlook for the EV market, this report is intended to examine the patent trend in the EV charging system domain to provide a comprehensive insight for related industries to set research and business targets.
This report examines about 12,000 published applications and granted patents on EV charging systems that have been filed until December, 2014 in KIPO, JPT, USPTO, EPO or PCT applications.
In addition, this report provides a quantitative analysis of about 3,000 target patents selected from a total of 12,000 patents. Especially, provided are patenting trends by country/year, top applicants by year, patenting trends of leading companies by country, patenting trends of the leading companies, patenting trend by technology, patenting trends by technology/year, top applicants by applicant, shares of technology sectors by period, major applicants by period, trends by technology/country, trends in top applicants/inventors, top applicants/inventors by country (US,KR,JP, EU)k, patent transfer trends, technology focus areas and key patent lists of charging system companies.
The followings are samples of the quantitative analysis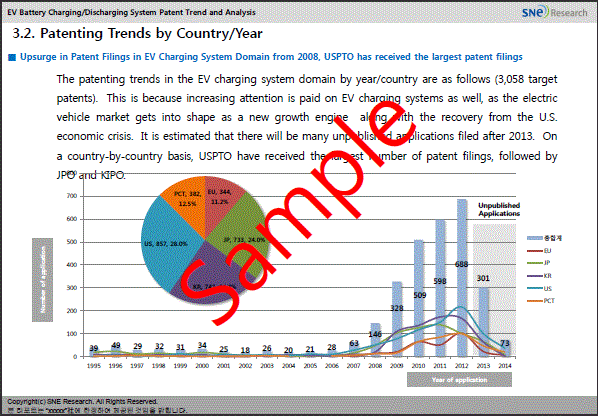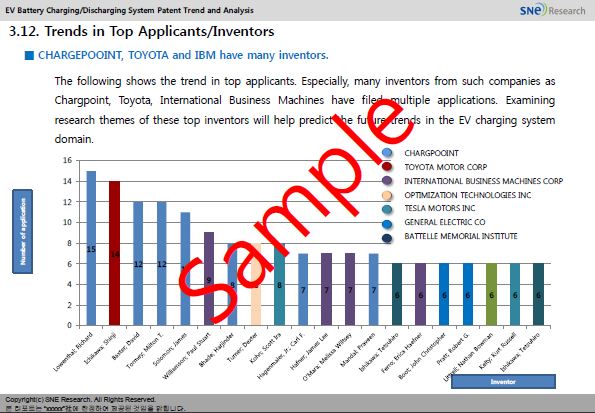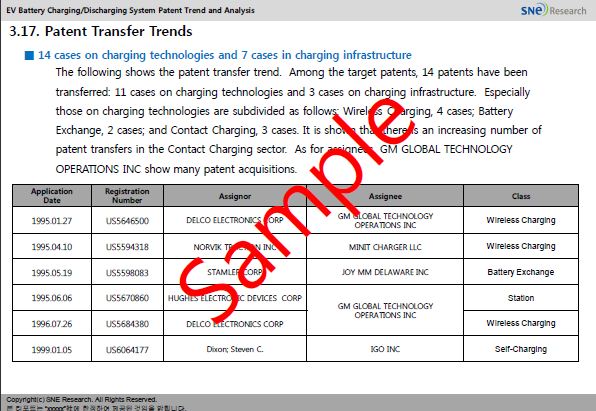 In addition, 81 U.S. patents are selected from the 3,000 target patents based on patent indices. As for the 81 key U.S. patents, provided are key patent filings of top applicants by country, key patent filings by applicants nationality and year, key patent filings by year/technology, key patent filings by technology, key patent filings of leading companies by technology, trends in top applicants of key patents, key patent lists by country, technology timelines and key patent summaries.
The followings are the samples of the key patent analysis.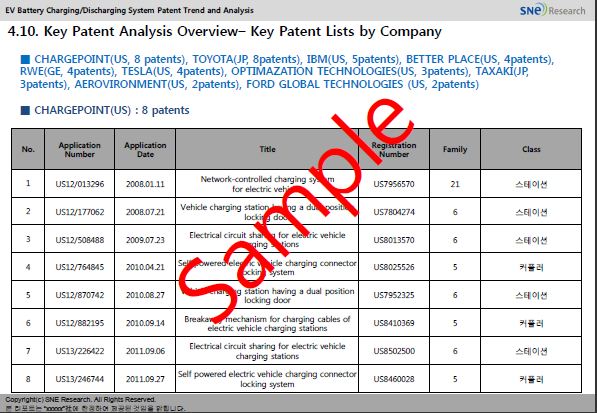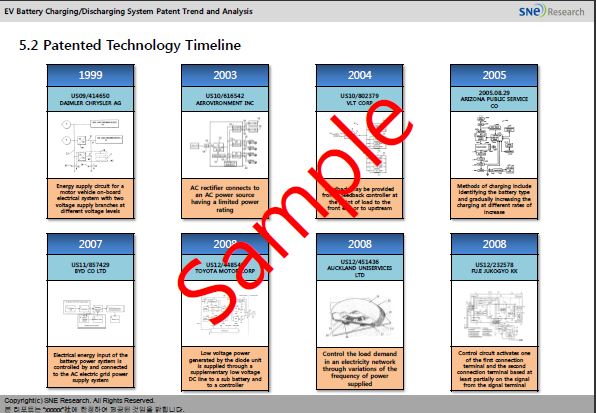 Likewise, this report provides various qualitative and quantitative analyses for EV charging systems as a useful guidance for R&D targets by companies, policymaking activities by governments and research efforts by universities.
The report is about 170 pages and the main contents are as follows.
1. Patent Analysis Overview
3. Patenting Trend Analysis
4. EV Charging System Key Patent Analysis Overview
5. Key Patent Analysis Contact Charging
6. Key Patent Analysis Wireless Charging
7. Key Patent Analysis- Battery Exchange
8. Key Patent Analysis Self-Charging
9. Key Patent Analysis- Station Technology
10. Key Patent Analysis- Coupler Technology
11. Key Patent Analysis- Business Model Technology
12. Conclusion and Implication