Trends in global leading LIB makers

Recently, the global rechargeable battery market is becoming
an arena for competition among Top 3 countries. Medium to large applications
such as ESSs and xEVs are expected to be the dividing line between victory and defeat.
Lithium rechargeable battery and EV markets are emerging as new growth engines,
boosting the growth of related parts and materials industries.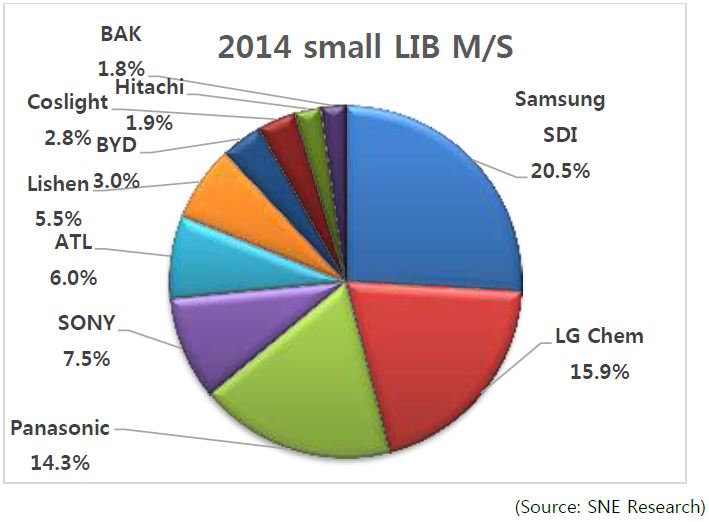 LG Chem and Samsung SDI which make large investment and focus their capabilities
in existing large battery businesses are trying to maintain their dominance in the emerging market,
while Japanese Panasonic and Sony and Chinese ATL and Lishen are endeavoring to
make a successful entry into the large capacity battery business.

LG Chem and Samsung SDI are in competition for R&D for high capacity,
high density new materials. Although both companies have suffered losses
in the large capacity rechargeable battery business due to excessive initial investment
and development expenses , LG Chem is expected to begin to see profits from 2017;
and Samsung SDI from 2018 along with the growth of EV and ESS markets. In addition,
both companies are endeavoring to diversify suppliers for the 4 key components to achieve
both cost reduction and safety.
This report is largely divided into two sectors: introduction to the global li-ion
rechargeable battery industry; and analyses of strategies of major li-ion rechargeable
battery makers in Korea, China and Japan.

In the introduction part, prospects for global and domestic markets of key LIB components
are provided as well as prospects for the global LIB market including small IT
and medium-to-large applications (xEVs and ESSs). In the strategy part, the history
and current status of LIB business, product line, business strategies, line expansion,
parts and component sourcing, and roadmap strategies of leading LIB makers
as well as company profiles. Detailed analyses for a total of 7 major
Korean/Chinese/Japanese companies are provided: 3 Korean companies
(Samsung SDI, LG Chem, SK Innovation), 2 Japanese companies (Panasonic, Sony),
2 Chinese companies (ATL, Lishen).

Strong points of this report include:
- Market-Oriented Analysis
- M/S and Market Forecast in Global LIB Rechargeable Battery Domain
- Market Strategies of Leading LIB Makers
- Leading LIB Makers Sourcing Strategies for Parts and Components
- Contents -
1. LIB Market
2. Leading LIB Makers: Strategy Analysis
3. Conclusion and Implication
Conclusion
Implication
Appendix