LIBs were first adopted in small IT devices such as note PCs and HHP and has expanded their territory into various applications including electric vehicles and energy storage systems. Requirements for LIBs vary from application to application
The R&D on LIBs has been mainly directed toward high capacity, high output, low price and high safety.
Since the first commercialization in 1990, LIBs have constantly evolved in terms of performance. Taking cylindrical batteries as an example, their capacity has increased by 2 times but prices declined to less than 쩍. Nevertheless, the efforts to achieve high capacity is progressing slowly because little progress has been made in securing low-cost, high capacity materials for LIBs.
Due to the slow progress in securing high performance materials, the development of high capacity LIBs has slowdown. To overcome this challenge, there are aggressive efforts, focused on the 4 key components. Among them, the development of cathode materials is directed to achieving high capacity by increasing the charging voltage of cathode materials.
This report introduces the current trends in the development of cathode materials with high voltage charge capacity and challenges, proposing the directions for future R&D activities.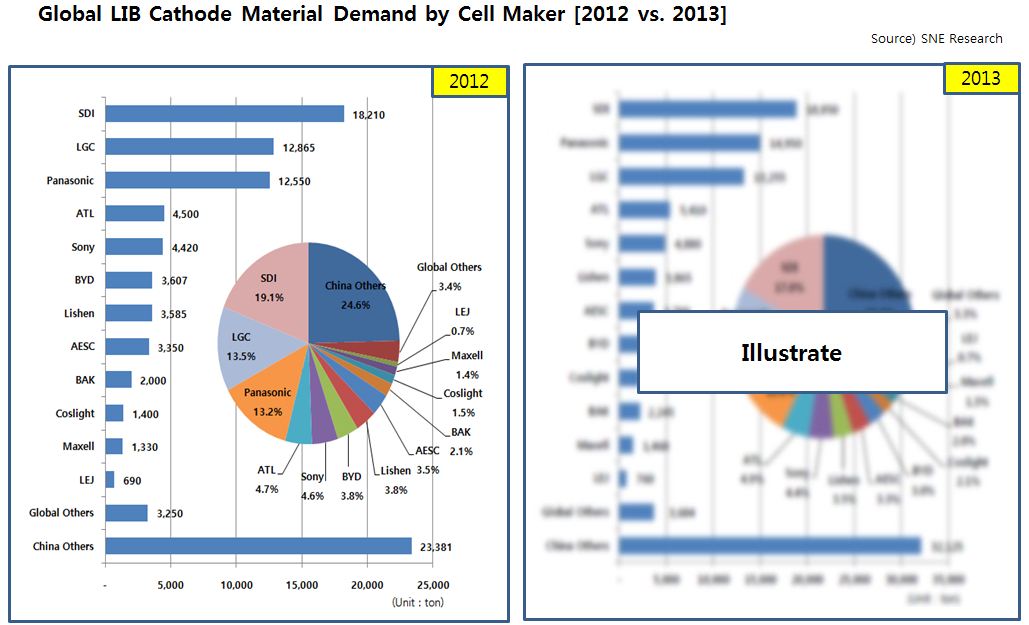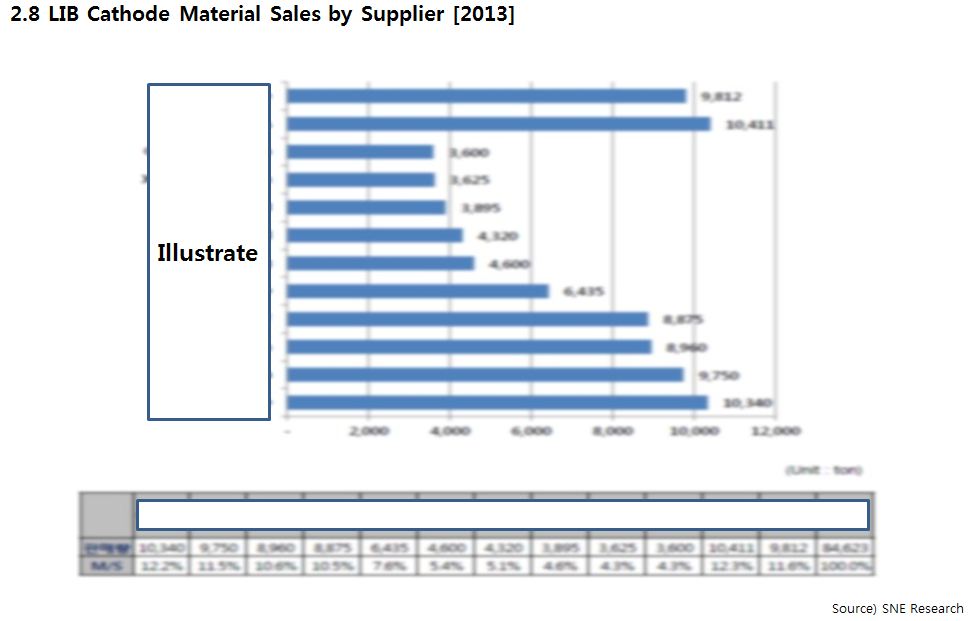 - Contents -
1. LIB Market
1.1 Expanding Applications of Li-ion Secondary Batteries
1.2 4 Key Targets for Development of Li-ion Secondary Batteries
1.3 LIB market forecast -all segments [2011-2018, , revenue]
1.4 LIB Market Forecast- IT Segment[2012-2018, number of cells]
1.5 xEV Market Forecast[2012-2018, number of vehicles]
1.6 Global ESS Market[2012-2018, battery capacity]
1.7 LIB Cost Forecast[Cell, Pack]
1.8 LIB Cost Structure Analysis
1.9 Roadmap for Development of 4 Key LIB Components
1.10 WPM Project Goals
1.11 Evolution of Li-ion Secondary Batteries with Galaxy S Series
2. LIB Cathode Material Market Trend
2.1 Global LIB Cathode Material Demand Forecast['12 ~ '18]
2.2 Global LIB Cathode Material Demand by Region['12 ~ '13]
2.3 Global LIB Cathode Material Demand by Cell Maker['12 ~ '13]
2.4 Cathode Material Consumption Analysis- SDI['12 ~ '13]
2.5 Cathode Material Consumption Analysis- LGC ['12 ~ '13]
2.6 Cathode Material Consumption Analysis- Panasonic ['12 ~ '13]
2.7 Cathode Material Consumption Analysis- AESC ['12 ~ '13]
2.8 LIB Cathode Material Sales by Supplier['13]
2.9 Changes in Cathode Material Consumption by Type ['12 ~ '13]
2.10 Materials Cost by Type [$/kg]
3. Challenges of High Voltage LIB Cathode Materials
3.1 Requirements for LIB Cathode Materials
3.2 Key Properties of LIB Cathode Materials
3.3 Layered Cathode Materials [1]
3.4 Layered Cathode Materials [2]
3.5 Layered Cathode Materials[3]

4. Proposal for Development of High Voltage Cathode Materials
4.1 First Proposal for Development of High Voltage Cathode Materials [Surface Treatment with Metal Oxides]
4.2 Second Proposal for Development of High Voltage Cathode Materials [Surface Treatment of Metal Halide]
4.3 Third Proposal for Development of High Voltage Cathode Materials [Surface Treatment- Metal Hydroxide]
4.4 Fourth Proposal for Development of High Voltage Cathode Materials [Surface Treatment with Conductor]

5. Summary and Implications
5.1 Summary
5.2 Implications